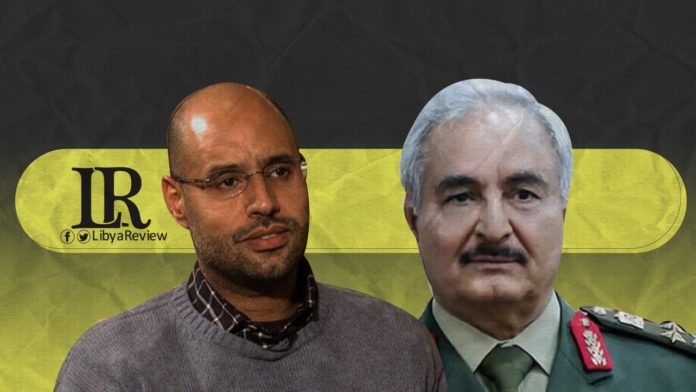 On Saturday the Alsaaa24 newspaper reported that there were leaks claiming that there is an understanding between advisers affiliated with the General Command of the Libyan National Army (LNA) and others who follow Saif al-Islam Gaddafi regarding the current political scene.
According to Alsaaa24, they agree on the need to get out of the political blockage, and to exclude any differences that pose a stumbling block to stabilising the country.
Sources close to one of the parties to the dialogue told Alsaaa24 that there is a state of harmony in the opinions that were put forward to crystallize a unified position on what is currently happening.
The sources added that the interlocutors agreed on several points and common points of view regarding what the country is currently witnessing. They agreed on the need to turn them into practical steps, theirs results are likely to appear in the coming days.
In its report, Alsaaa24 said that Libya is currently witnessing the monopoly of Abdelhamid Dbaiba in power, and his control over all Ministries and institutions by empowering the people of his city of Misurata. A state of political blockage prevails in the country as a result of the requirement of some of the dialogue parties to go to the constitution first.
There is a dispute over the method of electing the next President and efforts by some to reduce his powers in favor of the elected parliament, disputes that threaten to postpone the elections scheduled in advance on December 24th.