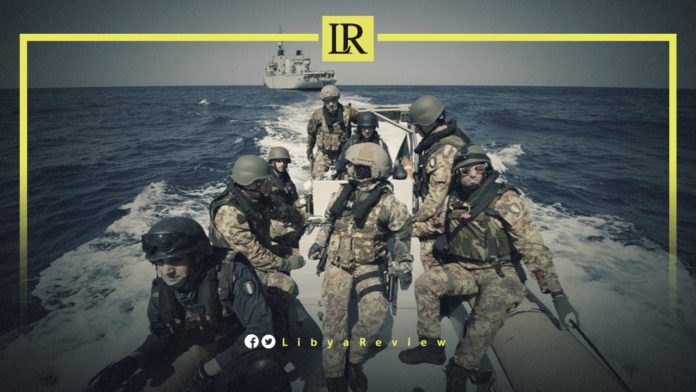 A Libyan delegation led by the Chief of the Libyan Border Guard and comprised of representatives from all Libyan border security institutions, visited the IRINI Operational headquarters.
According to a statement by Operation IRINI, the visit came as a part of efforts conducted by the European Union Border Assistance Mission (EUBAM) in Libya. The initiative is aimed at supporting the Libyan authorities in the areas of border security and fighting against crime phenomena, such as terrorism, human trafficking and smuggling.
The statement added that the Libyan visit to its headquarters in Rome was a valuable occasion to present IRINI as a tangible instrument for the EU Integrated approach.
The Operation Commander presented a detailed update on the status of the operation, highlighting the relevance of the results achieved in performing all the tasks of this unique EU maritime operation.
The briefing, provided by Rear Admiral Agostini attracted the attention of the Libyan interlocutors, ultimately enhancing their understanding with regard to the role that IRINI is playing as a part of the EU solution to the Libyan crisis.
He confirmed the absolute impartial and balanced posture in implementing the United Nations Security Council Resolutions and the full adherence to international law.
According to the statement, Agostini also underlined the important role of capacity building and training activities. These activities can result in a substantial development of the capacities of the Libyan Coast Guard and Navy in enhancing their operational effectiveness to perform their functions within their area of responsibility, in line with international standards.
A more capable and trustful Libyan Coast Guard and Navy would be beneficial for the overall maritime security in the Centrale Mediterranean Sea with virtuous consequences on the economy of the entire region, the statement added.