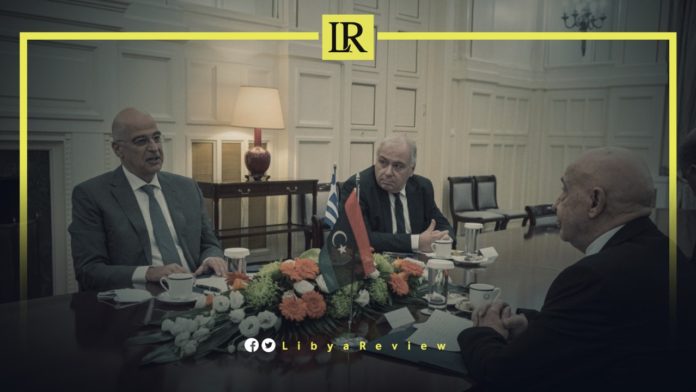 On Friday, the Speaker of the Libyan Parliament, Ageela Saleh met with Greek Foreign Minister, Nikos Dendias, as part of his official visit to Athens.
Saleh was accompanied by an official delegation that included Head of the Parliament's Foreign Affairs Committee, Yousef Al-Agouri, Head of the Defense and National Security Committee, Talal Al-Maihoub, and Head of the Interior Committee, Suleiman Al-Harari.
The meeting dealt with bilateral relations, and ways to support and develop them to serve the interests of the two peoples. They also discussed the latest developments in Libya, and the wider region.
Saleh also met with the Speaker of the Hellenic Parliament, Konstantinos Tasoulas. Tasoulas welcomed his Libyan counterpart, and commended his initiative to form the Presidential Council, and the Government of National Unity (GNU).
In turn, Saleh thanked Greece for the important role it has played in resolving the crisis in Libya.
He emphasized the depth of the historical relations between the two countries and peoples. He also stressed the need for all foreign forces and mercenaries to leave Libya immediately.
Regarding the constitutional rule for holding elections, Saleh confirmed that the constitutional declaration would be the constitution of Libya, until it is repealed or amended. He explained that the Libyan constitution stipulates that the President is to b elected directly by the Libyan people, and that the Parliament has studied the draft law on the election of the president.
The Speaker stressed the need to have direct presidential elections, in order to unify state institutions, military institutions, and conduct reconciliation among Libyans.