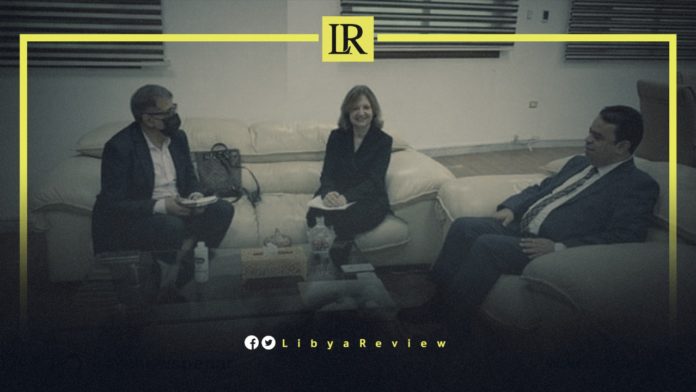 On Wednesday, the Libyan Minister of Labor and Rehabilitation, Ali Al-Abed Al-Rida, met with the French Ambassador to Libya, Béatrice le Fraper du Hellen. They discussed bilateral relations, and French support in the training and rehabilitation sector.
The minister confirmed the depth of relations between the two countries, noting the importance of strengthening joint cooperation at all levels.
According to a press briefing by the Ministry of Labor and Rehabilitation, Al-Rida reviewed the programs and projects that the ministry intends to implement, especially in the field of vocational training and human resource development. He confirmed that they are working on trying to improve the efficiency of such programs, in line with the requirements of the stage.
The minister valued the support and contributions provided by the French government to Libya in all fields.
The French Ambassador praised the joint cooperation between the two countries, and expressed Paris' readiness to provide technical support and necessary training, with regard to building the capacities of young job seekers, graduates, and employees. She also stressed the need to maintain coordination between the two countries in various fields.
Notably, Nicolas de Rivière, the Ambassador and Permanent Representative of France to the United Nations, announced that he will focus on two main issues during France's presidency of the UN Security Council for July. This includes humanitarian issues, and issues pertaining to the Middle East, specifically Libya.
Notably, a meeting will take place on 15 July at the Security Council, related to Libya. This includes the implementation and monitoring of the ceasefire agreement, the withdrawal of foreign forces and mercenaries, in addition to preparations for the general elections.