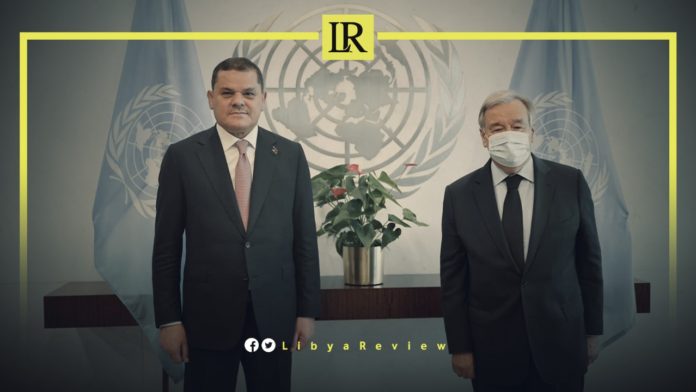 United Nations Secretary-General, António Guterres insisted that mercenaries and foreign fighters must leave Libya without any further delays.
During a meeting with Libyan Prime Minister, Abdel-Hamid Dbaiba, following the Security Council session on Libya on Thursday, Guterres said that the presence of mercenaries and foreign fighters in Libya is a major factor of the crisis.
Dbaiba stressed the importance of international partnership in helping Libya get rid of all foreign forces, stabilise the country, and achieve free, transparent, and fair elections.
During the meeting, Dbaiba and Guterres touched on the latest developments in Libya, including the country's human rights situation, and the COVID-19 pandemic, according to the government's media office.
On Thursday, the Security Council stressed the importance of free and fair presidential and parliamentary elections in Libya, scheduled for 24 December, and urged the Libyan authorities and institutions to clarify the constitutional basis for the polls.
The Security Council called on the Libyan Political Dialogue Forum (LPDF) to take steps to facilitate the elections, and welcomed efforts by the United Nations Support Mission in Libya (UNSMIL) to encourage them to develop proposals for the electoral process.
It urged all member states, Libyan parties and relevant actors to fully implement the 23 October 2020 ceasefire agreement, including the withdrawal of all foreign forces and mercenaries from Libya without delay.
It also reiterated its grave concern at the dire situation faced by migrants, refugees, and internally displaced persons; recalling that all member states must comply with the arms embargo; it welcomed the completion of an independent audit of Libya's Central Bank (CBL); and reaffirmed its intention to ensure that assets frozen under its resolution 1970 (2011) shall be made available "at a later stage" for the benefit of the Libyan people.