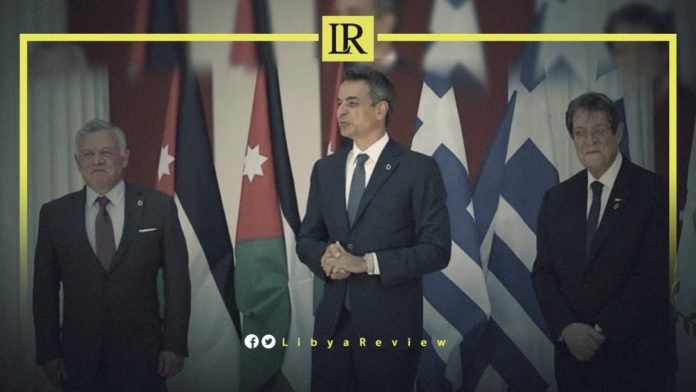 On Wednesday, Greek Prime Minister Kyriakos Mitsotakis, Cypriot President Nicos Anastasiades and Jordan's King Abdullah II held a trilateral summit in Athens, to strengthen cooperation between the three countries.
During the talks, the three leaders expressed their commitment to a political solution that would end the conflict in Libya on the basis of UN Security Council resolutions 2570 and 2571 (2021), and all other relevant UN Security Council resolutions. They also reiterated their determination to help restore stability, security, and prosperity to Libya, and emphasised their commitment to its unity, sovereignty and territorial integrity.
The leaders welcomed the political progress achieved through the Libyan Political Dialogue Forum (LPDF) held under the auspices of the UN, and expressed support for Libya's interim Government of National Unity (GNU) in its efforts to hold the 24 December elections. They stressed the importance of the complete withdrawal of all foreign forces, fighters, and mercenaries as stipulated in the October ceasefire agreement by the 5+5 Joint Military Commission (JMC).
The three emphasised that a peaceful, stable, and prosperous Mediterranean is a strategic priority of the region. They called on all countries of the region to respect the sovereignty, sovereign rights, and jurisdiction each state has over its maritime zones in accordance with the Law of the Sea. To this end, they stressed the importance of engaging in constructive dialogue and negotiations, in accordance with International Law.