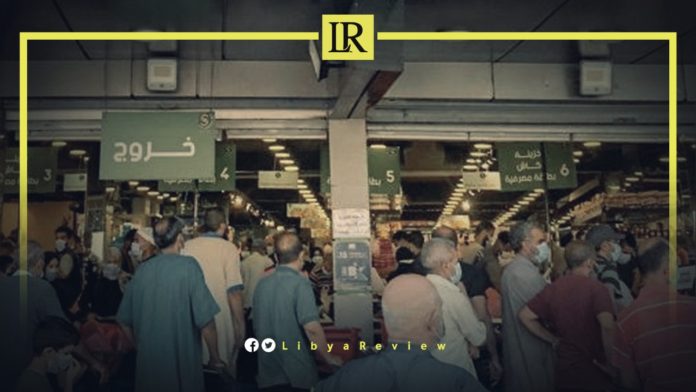 Hundreds of Libyan citizens rushed to shops in the early hours of Friday before a three-day full lockdown. The lockdown was announced by the authorities and caused fury amongst the citizens.
The United Nations (UN)-brokered Government of National Unity (GNU) headed by Abdelhamid Al-Dbaiba imposed a two-week curfew from 6pm to 6am on July 26th, in an attempt to fight COVID-19. On Thursday evening, without any warning, the GNU announced the full lockdown as of Saturday.
The sudden decision caused anger amongst many citizens due to their dire living conditions, from a severe lack of services, especially electricity, water, high prices and lack of liquidity in commercial banks.
Crowds of citizens have been seen rushing to supermarkets in the morning, and there are long queues in front of gas stations, with people carrying plastic cans to fill them with gasoline in order to run their electric generators.
"My father woke me up and said that there is a full lockdown and we have to rush everywhere and get all what we need," said 22 years old IT student Ala Alkmaishi in Tripoli's Zawiyat Addahmani district gas station.
"My older brother and my mother went to the supermarket to buy food, my father went to buy meat, my little brother to buy water," Alkmaishi said, "and I am here to fill the gallons with gasoline for the generator."
A man in his 40s said that such decisions could make the situation more worse. "I live on the fifth floor and we can't have a generator as it causes in unbelievable noise, if there is no lockdown, we could at least go to the beach. I can't understand this Dbaiba."
Since the fall of Libya's long-time leader Moammar Gaddafi ten years ago, the country has been marked by political, security, and economic volatility. The electricity crisis added more pressure on citizens with some having to live up to more than 12 hours of power cuts.
According to a state audit bureau report in 2017, the successive governments spend more than 277 billion Libyan dinars but achieved too little. A sign that marks the oil-rich country in the corruption index.
"Why do the authorities always surprise us with such stupid decisions, as if we have enough money to provide what we need at any time?" said Abdul Latif al-Mahdi, a father of two, who works as a cashier for 50 Libyan dinars a day in a café.
"I will stop working during the lockdown, and this means I will not earn my daily wage, which will result in return in my inability to provide for my family's needs and thanks to Dbaiba," al-Mahdi said.
The GNU was struck by the response and published another official stated, excluding bakeries, food shops, and pharmacies from the full lockdown.
A shop owner in the city centre said, while he was barely able to deal with all the customers, that the government's ill-considered decision has caused this congestion.
"I am afraid for myself and the workers in the shop because there are many citizens who are not committed to precautionary measures such as wearing a mask or using alcohol," said the shop owner.
"These crowds happened today for sure will result in thousands of new infections," he added.
The GNU considers the full lockdown a precautionary measure that would reduce the number of COVID-19 infections.
These recent decisions reflect the division that Libya has been witnessing for years due to the struggle for power by rivals. The lockdown is implemented only in the western region. The eastern and large part of the southern regions are under fully control of Field Marshal Khalifa Haftar,
But the lockdown was breached in the evening by hundreds of Al-Ittihad fans in Tripoli who took to the streets to celebrate the club's victory in the Libyan League title against Al-Ahly Club.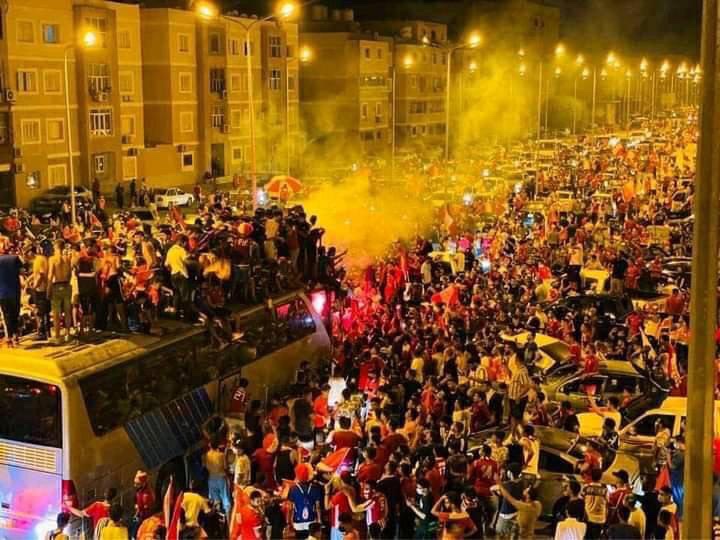 However, the Health Minister, Ali Al-Zanati, in press conferences recently, said that a shipment of two million doses of a COVID-19 vaccine arrived, stating that "the epidemiological rate is decreasing."
Zanati urged citizens to receive the vaccine, and stated that there are 432 centres open ready to vaccinate.
Today, the National Centre for Disease Control (NCDC) announced 1,879 positive cases, which makes the number of infections jump to 6,3575. The centre has recorded 3,689 deaths so far.
It added that more than 700,000 citizens have been vaccinated.