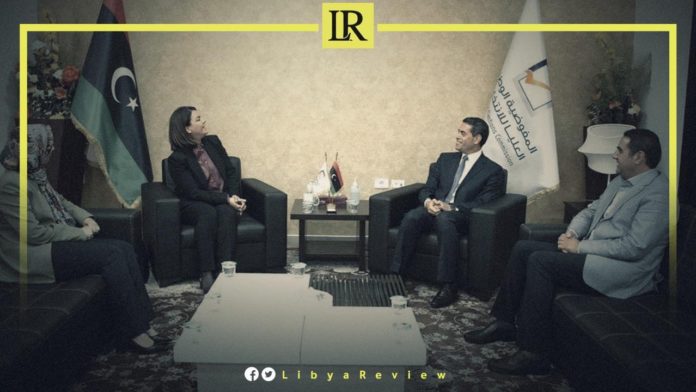 The Chairman of Libya's High National Elections Commission (HNEC), Emad Al-Din Al-Sayeh, received the Minister of Foreign Affairs, Najla Al-Mangoush, to discuss cooperation between the Commission and the Ministry of Foreign Affairs in preparing for the elections scheduled for 24 December.
During the meeting, the two officials discussed ways to support the Commission, in order for it to meet the needs of the people, as a step towards stability and state-building.
The meeting was attended by members of HNEC's Board of Directors, Abdel-Hakim Al-Shaab, Rabab Halab, and Abu Bakr Marda. They reviewed the measures taken by the commission to ensure the participation of the Libyan communities residing abroad in the planned general elections. They also discussed aspects of technical support provided by the international community, and its role in raising the efficiency and professionalism of the electoral process.
Al-Mangoush expressed her support for the electoral process, confirming the readiness of the MFA to harness the capabilities available to it for the success of the elections.
The FM said that the ministry is ready to work with HNEC to create the best conditions for the Libyan communities residing abroad to access the polls, and to build a democratic state that all Libyans aspire to.