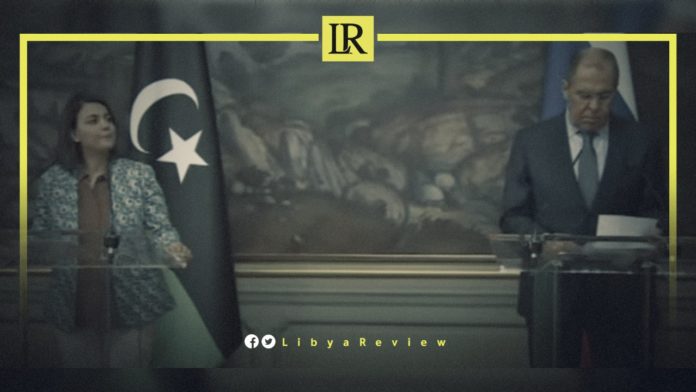 On Thursday, Libyan Foreign Minister, Najla Al-Mangoush and her Russian counterpart, Sergey Lavrov called for the gradual and synchronized withdrawal of foreign troops from Libya.
During a joint press conference in Moscow, Al-Mangoush stressed that the withdrawal should be synchronized by the two sides, "to ensure a balance on the ground."
The Libyan FM said her country believes that the withdrawal should take place in stages, in a simultaneous manner by both parties, and also in a practical and specific way. "We do not want to repeat the unsuccessful lessons of neighbouring countries, because the withdrawal must take place in accordance with the law, and it must be deliberated and phased," she said.
In turn, Lavrov said Moscow and Tripoli support the withdrawal of all foreign military personnel, without exception, from Libyan territory. He also called for international solidarity to rebuild state institutions, and focused on his support for the 5+5 Joint Military Commission (JMC).
"Ms. Minister informed us that the Libyan authorities are now forming a consultative mechanism and a consultative process to establish specific criteria for implementing the decisions of the withdrawal of all foreign military personnel. We will be ready, along with other countries, to participate in this work," Lavrov said during the conference.
Meanwhile, Al-Mangoush indicated that Libya is open to dialogue with all countries, stressing that cooperation is necessary to find common ground to ensure that the withdrawal will be successful.
She hailed the "significant role that Russia plays in regional affairs. I would like to give high marks to the Russian Federation and to personally thank Russian President, Vladimir Putin for the efforts on bringing the Libyan sides closer and initiating a ceasefire that started in January 2020 with the goal of finding common ground between all of Libya's conflicting sides," she concluded.