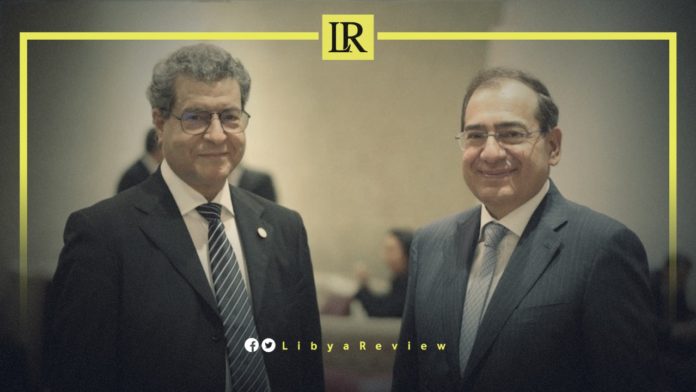 On Thursday, Libyan Minister of Oil and Gas, Mohamed Aoun, held talks with his Egyptian counterpart, Tariq El-Molla to discuss enhancing joint cooperation in the energy field.The meeting comes on the sidelines of visit by a Libyan ministerial delegation headed by Prime Minister of the Government of National Unity (GNU), Abdel-Hamid Dbaiba to Egypt.
El-Molla stressed Egypt's support for Libya's efforts to restore its oil industry, "within the framework of permanent cooperation between the two countries." He expressed the readiness of the Egyptian petroleum sector to contribute effectively in the reconstruction and rehabilitation of oil and gas infrastructure in Libya.
Libya's oil sector is the country's main source of income, and has suffered tremendously due to numerous attacks on its oil fields and ports.
Notably, Egypt and Libya signed on Thursday 14 memoranda of understanding (MoUs) and six executive agreements in several fields during the 11th round of meetings of the Egyptian-Libyan Joint Higher Committee.
The MoUs include one between the Central Agency for Organization and Administration in Egypt and Civil Service in Libya, another to establish a joint commercial committee, and an agreement between the Egyptian Industrial Development Authority and the Libyan Ministry of industry and Minerals.
Other MoUs were signed in the fields of agriculture, social solidarity, civil aviation security, oil and gas, counter-maritime pollution, marine search and rescue, housing, construction, and youth and sports.
Earlier this week Libyan Minister of Oil and Gas, Mohamed Aoun, said that Libya was encouraging the return of US companies. He added that oil, construction, contracting and consulting companies are welcome to return to Libya.
The minister also participated in a closed-circuit discussion, organized by the Minister of Economy and Trade, Mohammed Al-Hawij, with the US Ambassador, Richard Norland. The discussion was concerned with the activation of the bilateral trade and investment agreement, signed in 2010.