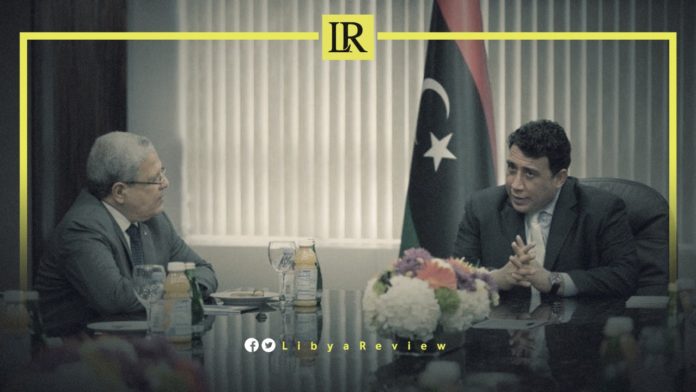 On Thursday, Head of the Libyan Presidential Council, Mohamed Al-Mnifi held bilateral talks on the latest developments in Libya with Tunisia Foreign Minister, Othman Jerandi.
During the meeting, Jerandi affirmed Tunisia's support for the democratic process in Libya, and the elections set for 24 December. The two officials also discussed "pushing forward a comprehensive political settlement," the Tunisian Foreign Ministry said in a statement.
In turn, Al-Mnifi affirmed his continuous support for the Tunisian people, praising the distinguished bilateral relations between the two countries, and the visit of Tunisian President, Kais Saied to Libya in March.
He also stressed the need to respond to the Libyan people's legitimate aspirations for a prosperous and sovereign Libya.
On Tuesday, Libya's Parliament withdrew confidence from the Government of National Unity (GNU), raising questions about plans for the December ballot.
Recently, Tunisia Foreign Minister, Othman Jerandi said that the recent Tunisian-Libyan consultations have resulted in the two countries agreeing to sign a bilateral health protocol to reopen the border crossings.
Jerandi added that the Tunisian and Libyan 'Scientific Committees to confront Coronavirus' remotely met on Tuesday. They agreed on a health protocol specifically for the Ras Ajdir border crossing.
On Monday, the Tunisia Ambassador to Libya, Saad Al-Ajili denied rumours that Libyans were to be barred from entry into Tunisia. He said, "Libyans are welcome in their country, Tunisia."
The Tunisia Ambassador pointed out that the measures taken by the Tunisian government are not political. He added that these measures are based on current health precautions, given the deterioration of the healthcare system in Tunisia due to the COVID-19 pandemic.
Al-Ajili explained that the relationship with Libya is extremely close. He noted that the recent visit by Libyan Prime Minister, Abdel-Hamid Dbaiba and his accompanying delegation was the best evidence of the depth of the relationship between the two countries.