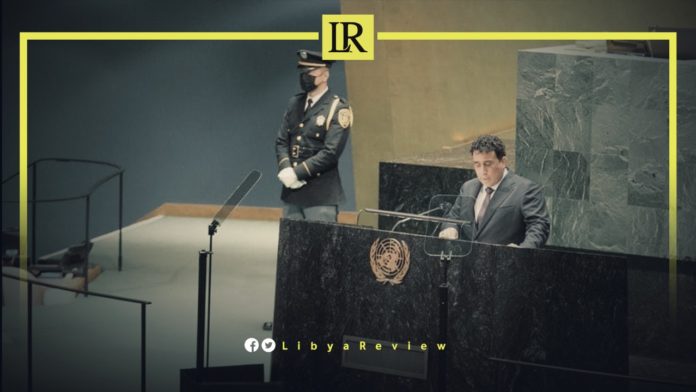 Mohamed Al-Mnifi, Head of the Libyan Presidential Council, stated that, "there is no way to address the Coronavirus globally, except by ending military operations and armed conflicts, and providing resources to confront this pandemic."
In his speech at the 76th session of the United Nations General Assembly, he added that, "this stage requires, in the first place, a concession by everyone, a spirit of responsibility, and placing the nation's interest above any interests."
"Libya will host an international meeting, within the framework of supporting the Libya Stability initiative in October." The initiative will deal with the political, security, military, and economic tracks, reached during previous agreements.
Al-Mnifi invited all concerned parties to work on preserving the political process and help avoid a new crisis. He stressed that Libya is witnessing a decisive stage, either succeeding towards a democratic transition by holding free, fair, and transparent elections and the acceptance of results, or failure and returning to divisions and armed conflict.
"We have fought one of the worst and fiercest forms of terrorism, and the whole world has witnessed this, we have sacrificed the lives of our youths in order to keep it free of terrorism."
Al-Mnifi explained that Libya was affected economically, socially, and security-wise by the flow of illegal immigration. "The phenomenon of illegal immigration can only be confronted with concerted efforts, and transit countries cannot bear its taxes. We emphasize respecting the humanitarian aspect, providing protection, and respecting the human rights of immigrants. My country bore a great burden that requires the support of the international community,"
Al-Mnifi pointed out that the Presidential Council is trying to fulfil its obligations towards the people, and its international obligations "as much as we can."
"Libya is working constructively as a member of the United Nations Human Rights Council. We look forward to increasing cooperation with the office of the High Commissioner for Human Rights (OHCHR) in Libya," Al-Mnifi said.
Al-Mnifi confirmed that the Libyan people are strong-willed and have solid determination. "We are confident that together we will be able to get out of this ordeal stronger than before. Libya, with its great people, will remain united, proud, and free."
Al-Mnifi stressed that national reconciliation is an essential element in the success of the political process, and in achieving lasting stability. "We have set out to make this goal our first priority through the establishment of the High Commission for National Reconciliation, and the launch of a comprehensive reconciliation program."