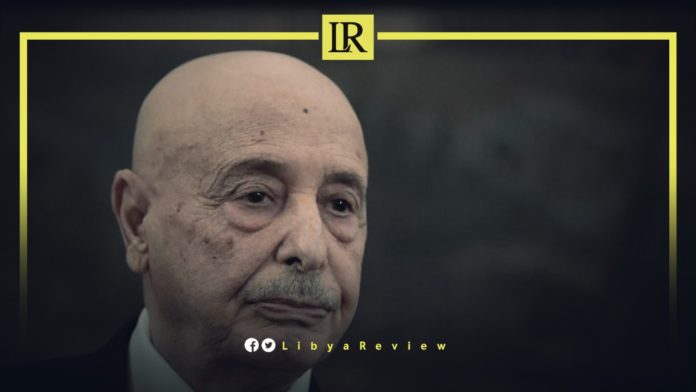 The Libyan Parliament Speaker, Ageela Saleh, said that the withdrawal of confidence from the Government of National Unity (GNU) aims to prevent it from signing long-term contracts with foreign countries.
On Friday, Ageela Saleh explained in an interview with 218 News, that the quorum required to withdraw confidence is half the number of Members of Parliament (MPs) +1, according to Article 194 of the Parliament Law.
He confirmed that the process of voting to withdraw confidence from the Al-Dbaiba government took place by raising the hands of 89 MPs in a Parliamentarian session.
"Withdrawal of confidence aims to prevent the government from signing long-term contracts with foreign countries. The MPs expressed their dismay at the government's conclusion of contracts worth billions with foreign countries. These contracts entail obligations and debts for the Libyan state," Saleh said.
The Parliament Speaker confirmed that the dialogue committees between Parliament and the High Council of State (HCS) did not reach any solutions regarding the constitutional and legal base.
"I have informed the United Nations (UN) Envoy to Libya, Ján Kubiš, that the government is continuing to perform its duties, and there is no power vacuum. The government's work inside Libya is guaranteed, and thus it can carry out its work to reach the elections," he added.
The Parliament Speaker spoke about the protests that followed the decision to withdraw confidence, saying that, "demonstration is a constitutional and legitimate right for all, and the Libyans have the right to demonstrate anywhere in the country." He added that he knows that the Libyan people want the elections to be held on December 24th.
The HoR formed a legal committee to amend the Parliamentary Elections Law, and it seeks, in its next or subsequent session, to issue the Parliament Elections Law, according to Saleh.
The Parliament Speaker concluded that the solution to the Libyan crisis lies in holding parliamentary and presidential elections on time.