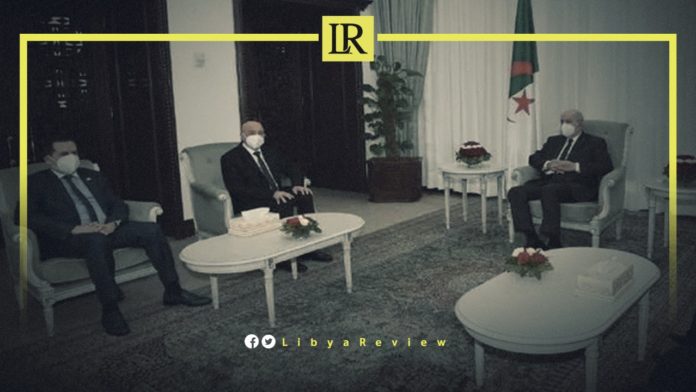 On Sunday, the Speaker of the Libyan Parliament, Ageela Saleh held a meeting with Algerian President, Abdelmadjid Tebboune in Algiers.
Ageela Saleh expressed his gratitude and appreciation for Algeria's support for Libya's democratic process, and praised its strong position regionally and internationally.
Saleh highlighted Algeria's efforts to have Libya's rival parties reach a suitable compromise to end the decade-long crisis.
President Tebboune reiterated his commitment to supporting Libya's national reconciliation program and holding elections in December. As well as adding that Algeria would support Libya in finding a peaceful solution based on dialogue through elections.
The two sides also discussed the historical bilateral relations, and ways to strengthen consultations and exchange parliamentary delegations.
Algeria hosted ministerial meetings of Libya's neighbouring countries, on 30-31 August, with the aim of helping Libya overcome the stumbling path of a political settlement. Foreign ministers of seven countries participated, namely Algeria, Egypt, Libya, Tunisia, Sudan, Chad, and Niger. This is in addition to the Congo which chairs the African Union, the Secretary-General of the Arab League, Ahmed Aboul Gheit, the African Union Commissioner for Political, Peace, and Security Affairs, Bankole Adeoye, and the Special Envoy of the UN Secretary-General to Libya, Jan Kubis.
During the meeting, Libya's Minister of Foreign Affairs, Najla Al-Mangoush called on neighbouring countries to support and adopt the Libya Stability Initiative and invited them to participate in an international conference that Libya will organize later this year.
During her speech, Al-Mangoush explained that the initiative aims to be "Libyan-led and internationally supported" in order to allow the Libyan people to choose their own future.