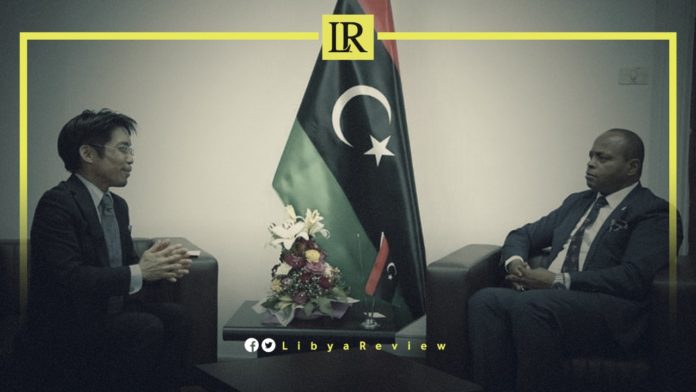 On Wednesday, the Undersecretary of the Libyan Ministry of Foreign Affairs for International Cooperation and Organizations, Omar Keti held talks with the Chargé d'Affairs of the Japan Embassy to Libya, Masaki Amadera.
During the meeting, the two sides reviewed the support provided by Japan, including scholarships offered to Libyan graduate students this year, and several training courses being organised for Libyans in both the public and private sectors.
Keti expressed the Ministry's desire to sign a memorandum of understanding with the Japan International Cooperation Agency (JICA), in order to "benefit from Japan's expertise in science and information technology, the localization of industry to achieve spatial development, and the revitalization of the private sector by supporting small and medium enterprises."
In turn, Amadera affirmed his full support for the elections scheduled for 24 December, the Libya Stability Initiative, and the international conference that Libya is organising regarding this initiative at the end of this month.
In September, the Head of Libya's Presidential Council, Mohamed Al-Mnifi announced that he was organising an international conference in October, to garner support for the country's stability, warning that it faces "serious challenges" that could undermine the planned December elections.
Addressing the UN General Assembly in New York, Al-Mnifi said the conference would aim to ensure "unified, and consistent" international support to restore a sense of Libyan leadership and ownership over the country's future.
Notably, the United Nations Children's Fund (UNICEF) said that in May, the Japanese government approved a funding program worth 833,000 US dollars to support Libya against COVID-19.
The fund is aimed at strengthening Libya's preparedness for its vaccination program, especially with regard to the procurement of cold chain equipment and institutional capacity development of healthcare staff.
"With the aim of vaccinating 1.5 million people, the project will support approximately 200 facilities and 1,000 health officials and healthcare staff," Amadera said.
In April, the Libyan government launched a vaccination campaign with priority given to medical staff treating COVID-19 patients inside isolation units, followed by the elderly, those with chronic diseases, and then medical workers in different hospitals and medical centers.