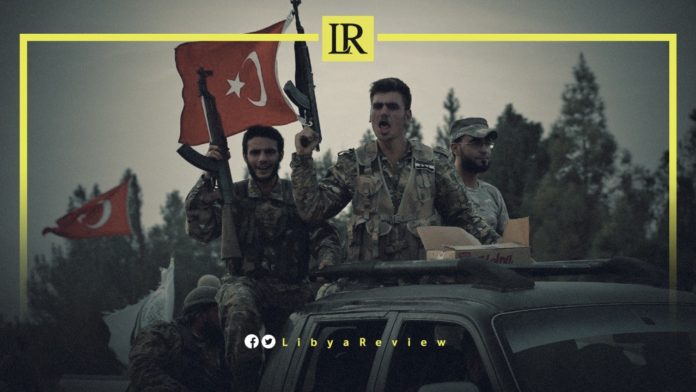 On Thursday, Head of the Foreign Affairs Committee of the Libyan Parliament, Yousef Al-Aqouri stressed the need for all foreign forces and mercenaries to leave the country.
In a virtual meeting with members of the Turkish National Assembly, Al-Agouri called on Ankara to play a positive role in withdrawing its forces from Libya. He also urged Turkey to work on creating the appropriate conditions for Libya's stability, and ensuring the success of the upcoming elections.
Notably, the 5 + 5 Libyan Joint Military Commission (JMC) has recently announced the completion of an action plan aims to remove mercenaries and foreign forces in a gradual and balanced manner.
The sources told Sky News Arabia that the plan includes four main points, the first of which is the withdrawal of foreign forces to agreed points in two cities, provided that they never leave their positions.
The second step includes deploying UN-observers to work on implementing the foreign forces' withdrawal in a gradual and balanced manner. "Libya has already requested the United Nations and the Security Council to deploy the observers," the sources revealed.
The third step is for the observers to monitor the actual number of foreign forces and mercenaries, and document them accurately.
"Finally, the mercenaries are to be deported from Libya in successive batches according to a timeline, which estimates say will end by 2023," the sources concluded.
Libya has been wracked by chaos since a NATO-backed uprising toppled longtime ruler Muammar Gaddafi in 2011. A 2019 assault on Tripoli by Field Marshal Khalifa Haftar, Commander of the Libyan National Army (LNA) resulted in the introduction of mercenaries in Libya's civil war.
Turkey supplied military personnel and equipment, as well as thousands of foreign forces from Syria to the former Government of National Accord (GNA) against the LNA. Ankara has refused to consider the departure of its military personnel and mercenaries, claiming they are covered by bilateral agreements with Libya.
Last month, UN Special Envoy to Libya, Jan Kubis said that starting the withdrawal of foreign fighters from the country would be a major step for Libya. The UN estimates that there were at least 20,000 foreign forces and mercenaries in Libya, including Syrians, Sudanese, and Chadian nationals.