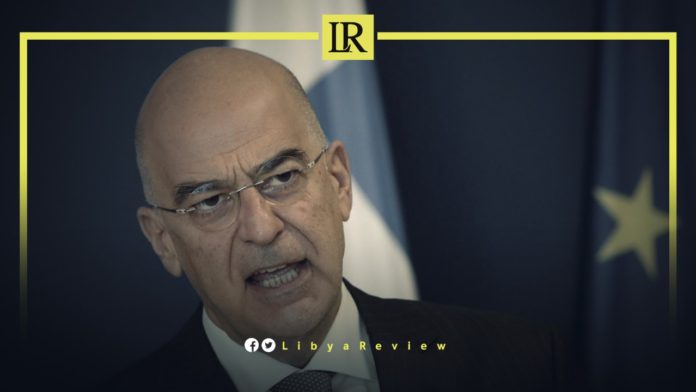 On Monday, Greek Foreign Minister, Nikos Dendias called for a new summit on Libya to be held in Paris under the joint Italian-French presidency, the Nova Agency reported.
This came in a press conference with his Italian counterpart, Luigi Di Maio where they discussed the latest developments in the Libyan crisis, especially with regard to the Libyan Presidential Council's decision to suspend Foreign Minister Najla Al-Mangoush on administrative violation charges.
The Greek FM reiterated the need to hold a new summit to give an explicit signal to withdraw foreign fighters and mercenaries from Libya, ahead of holding the long-awaited Presidential elections slated for 24 December.
Libya's Presidential Council has suspended Al-Mangoush from her duties and barred her from travel, a spokeswoman said Saturday. This comes days before a major international conference to support the elections is being held in Paris on 12 November.
Meanwhile, Libya's government, led by Prime Minister Abdel-Hamid Dbaiba rejected the decision, claiming it was an attempt to monopolise foreign policy.
The standoff between the two bodies is likely to increase political tensions in the county less than seven weeks before planned elections.
On Monday, Head of the High National Elections Commission (HNEC), Emad Al-Din Al-Sayeh announced that the deadline for applications for the Presidential election was 22 November, and 7 December for the Parliamentary elections.
Foreign powers have been pushing hard for elections to be held as scheduled. The embattled country has also struggled with infighting over a timetable for the elections, and the legality of the polls.
World powers, including France and the United States, are due to hold a conference in Paris to make a new push to restore stability in Libya.
On Sunday, HNEC claimed that 2.83 million Libyans out of a population of seven million have already registered to vote.