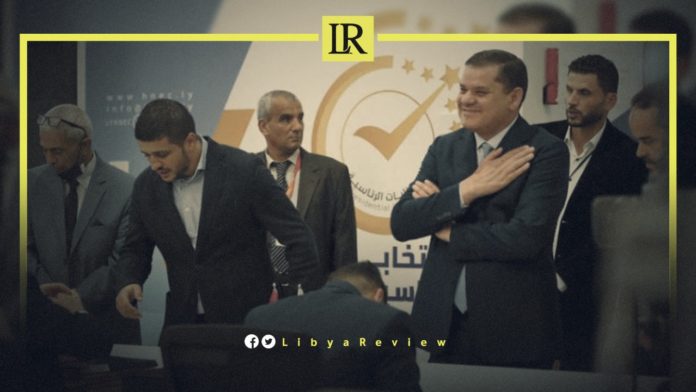 On Sunday, Libya's Interim Prime Minister of the Government of National Unity (GNU), Abdelhamid Al-Dbaiba filed a request at the High National Election Commission (HNEC)'s headquarters in Tripoli to stand in the presidential elections scheduled for December 24th.
Al-Dbaiba's candidacy sparked a lot of controversy in the Libyan arena, especially as it came in violation of the presidential election law approved by the Libyan House of Representatives (HoR) months ago.
According to Article No. 12 of the Presidential Elections Law, any candidate for the country's presidential elections must resign at least 3 months before the date of elections scheduled for December 24th. Al-Dbaiba has been exercising his duties as Prime Minister until now.
During the Libyan Political Dialogue Forum (LPDF) in Geneva, the United Nations Support Mission in Libya (UNSMIL) obliged executive position-holders in the interim GNU not to run for elections that follow the preliminary stage, in accordance with the conditions stipulated by the elections law.
In a declaration during the LPDF, which was held on February 4th, Al-Dbaiba pledged not to run for the upcoming presidential elections.
Al-Dbaiba's move to run for President is in clear defiance of the local and international laws and a violation of all that was agreed upon by the Libyans during the LPDF in Geneva.
It is noteworthy that tomorrow is the deadline for receiving applications of candidacy for the presidential elections.
The race kicked off last week, when Saif Al-Islam Gaddafi, the son and heir of the late long-time leader Moammar Gaddafi, filed his official candidacy papers in the southern town of Sebha.
The leader of the Libyan National Army (LNA), Field Marshal Khalifa Haftar also joined the presidential race this week from the eastern city of Benghazi.
Libya has been engulfed by chaos since an uprising toppled Gaddafi in 2011. The country had for years been split between a government in the East and a government in Tripoli, aided by western-based militias.
The elections are being organized under a law issued by Parliament Speaker, Ageela Saleh in September that set a first-round presidential vote for December 24th, but that delayed the parliamentary election to January or February.