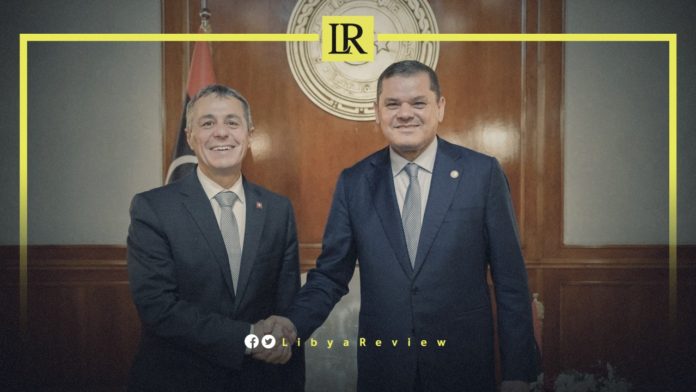 On Sunday, the Swiss Foreign Minister, Ignazio Cassis, held talks with Libya's Prime Minister, Abdelhamid Al-Dbaiba; the Head of the Libyan Presidential Council, Mohamed Al-Mnifi, and Foreign Minister, Najla Al-Mangoush, in Tripoli.
"Switzerland supports the roadmap for the electoral process set out by the Libyan Political Dialogue Forum (LPDF) and welcomes the holding of elections," Cassis said in a statement following his one-day visit.
Parliamentary and presidential elections on December 24th were demanded by a United Nations (UN) political forum last year as part of a roadmap to end Libya's civil war. However, disputes over the rules of the election threaten to derail the UN-backed peace process.
During his talks, Cassis reiterated Switzerland's support for lasting peace and stability in the country. The officials also discussed issues relating to migration, human rights and the humanitarian situation in Libya.
Switzerland's humanitarian aid for Libya focuses on the protection of civilians. It works with the International Committee of the Red Cross (ICRC), the World Food Programme (WFP), and NGOs on the ground. This year it has provided 5 million CHF($5 million) to help fund medical care for the most vulnerable and measures to tackle the COVID-19 pandemic.
This was the first visit to Libya by a Swiss Minister since 2010. It marked the end of a four-day trip that also took Cassis to Slovenia and Saudi Arabia.
Notably, Libya is set to hold its Presidential elections on the 24th of December, and Parliamentary elections a month later. The international community reiterated its support for the expected vote, and stressed the need to expel all foreign forces from the country as soon as possible.
The long-awaited vote still faces challenges, including unresolved issues over laws governing the elections, and occasional infighting among armed groups. Other obstacles include the deep rift that remains between the country's east and west, which has been split for years by the war, and the presence of thousands of foreign fighters and troops.