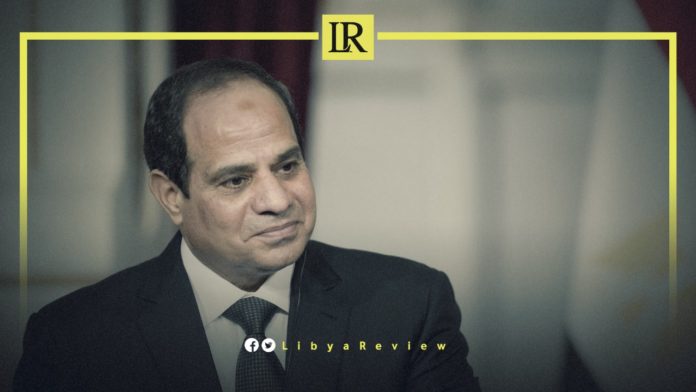 On Tuesday, Egyptian President, Abdel-Fatah El-Sisi affirmed Egypt's full support for a political solution to settle the Libyan crisis, and voiced his keenness to intensify coordination with the various Libyan parties.
These remarks came during a meeting with Mohamed Al-Mnifi, Head of Libya's Presidential Council (PC). This was on the sidelines of the 21st Summit of the Common Market for Eastern and Southern Africa's (COMESA) Heads of State and Government, which kicked off on Tuesday at Egypt's New Administrative Capital (NAC).
"Egypt's main goal is to achieve peace and security for our Libyan brothers, and to activate the free will of the Libyan people," El-Sisi said.
"The Libyan state's higher interest comes first," he stressed, noting that this interest stems "from the principles of protecting the unity of the Libyan territories, restoring security and stability, and ending foreign interference."
In turn, Al-Mnifi reiterated his keenness to intensify coordination with Egypt to hold Libya's elections on time, and ensure a better future for its people.
Al-Mnifi's participation "conveyed positive messages regarding the PC's support for the democratic process, and commitment to implementing the national roadmap despite challenges," the statement read.
President El-Sisi, as well as other regional and world leaders took part in the Paris International Conference on Libya, organised by the United Nations earlier this month, to underscore the need for holding the elections on time.
Holding the elections in Libya will enable the Libyan people "to express their free will" and derail the efforts of those "seeking narrow goals," El-Sisi said during the conference.
He urged all actors inside and outside Libya to "rise to the occasion" and "act responsibly and rationally" in a way that "helps Libya get through its crisis and end its people's suffering."
Two weeks before the conference, Cairo hosted a new round of UN-sponsored talks between Libya's 5+5 Joint Military Commission (JMC), with the attendance of then-UN special envoy for Libya Jan Kubis.
The commission met with representatives of Libya's neighbouring countries, to coordinate on the withdrawal of foreign troops from Libya.