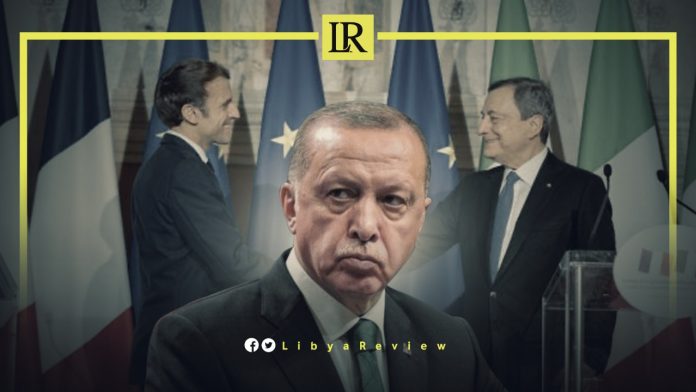 On Friday, France and Italy signed the Quirinale Treaty in a move aimed at setting up a new European front to deal with strategic challenges, especially in the Mediterranean.
The Libyan crisis will test the success of this treaty, especially since Italy and France appear to have transcended their frantic dispute over influence in Libya. This comes after Turkey has succeeded in establishing a strong foothold in the west of the country.
The treaty was signed yesterday in Rome by Italian Prime Minister, Mario Draghi and the French President, Emmanuel Macron in the presence of the Italian Head of State, Sergio Mattarella.
The geopolitical necessity of the treaty manifests itself through the leading role of Ankara, an actor on the rise in the land of 'all and no-one' that is today Libya. The control of the North-African state remains an imperishable tactical goal of Italy to increase its defensive depth.
President Macron stated that "the treaty with Italy will help us in facing the crisis in Libya."
This came after a series of disturbances in diplomatic relations between Rome and Paris due to several issues, most notably Libya. Both countries have major interests there, whether related to companies operating in the oil field, security, immigration or other investments.
Libyan political analysts believe that the French-Italian consensus came as an attempt to curb Turkish influence in Libya. A consensus through which the two countries are trying to play a role in support of the Libyan elections, which are scheduled for December. They added that the goal of the French-Italian treaty is clear, which is to restore European influence in Libya, which will be done by holding the elections.
Italy and France, perhaps in agreement with the United States, are pushing towards changing the political scene by holding elections on time. This will produce new faces, and these endeavours will undoubtedly be rejected by Turkey, and perhaps Russia from behind the scenes.
These goals come after Ankara and Moscow succeeded in controlling the situation in Libya, despite the frantic competition between Paris and Rome to secure their influence in the country.
On Thursday, French Foreign Minister Jean-Yves Le Drian said that France was on good terms with Italy regarding their views on Libya.
In response to a question by West France about whether Libya is the subject of a dispute between Rome and Paris, Le Drian said: "We have greatly converged our views on Libya." He added that this was embodied by their joint presidency of the Paris International Conference on Libya, which was held on 12 November.
Le Drian also stressed the need to hold the Libyan elections before the end of the year, as well as ensuring the "gradual withdrawal of foreign forces and mercenaries."