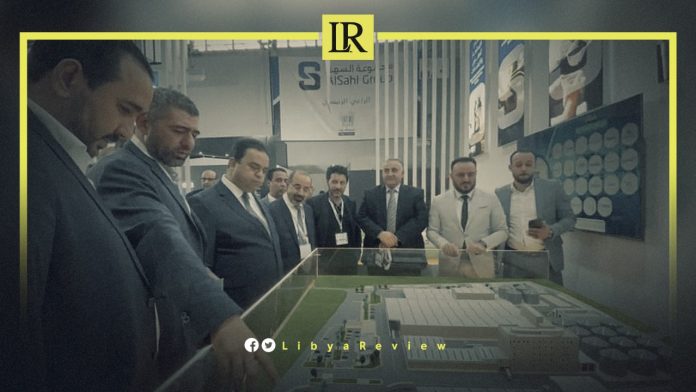 Libya and Tunisia signed a set of joint industrial agreements at the conclusion of the "Made in Libya" exhibition held in Tunisia.
The Libyan Industry Union led by its executive Director, Ali Nasir said that they agreed on 13 common recommendations, most notably the inclusion of the "Made in Libya" exhibition within the periodic exhibitions programmed annually, to exchange information, experiences and technical assistance in the field of industry and related fields.
The Head of the preparatory committee for the exhibition, Abdul Salam Al-Ferjani, said that partnership agreements were signed between 50 private investment and marketing institutions.
The exhibition organizers calculated that the agreements will top the agenda of the first meeting of the Libyan-Tunisian Committee for Joint Cooperation.
Notably, the first edition of the "Made in Libya" exhibition kicked-off on Wednesday at the Kram exhibition centre, with the participation of 150 companies.
In her opening remarks, the Minister of Industry, Mines and Energy, Neila Genji, said this event reflects the willingness of the Tunisian and Libyan governments to bolster industrial cooperation, to make the two countries an African and Euro-Mediterranean platform for industrialisation and export.
The Minister of Industry and Minerals, Ahmed Abu Hisa, stressed that this fair offers an opportunity to promote Libyan industry, adding that his country is working to strengthening trade with Tunisia.
The fair is part of the Tunisian-Libyan industrial forum, held from November 23rd to 27th in Tunis.
It is worth mentioning that the Libyan Minister of Labour and Rehabilitation, Ali Abdel-Rida, held a working session with his Tunisian counterpart, Nasr Eldin El-Nusabi. They discussed the support and development of Libyan-Tunisian cooperation in the field of vocational training and employment.
During the meeting, they agreed to start joint cooperation programs between the two countries, and activate the outputs of the joint technical committee created in 2019.
They signed a memorandum of understanding (MoU) specifying legal and practical procedures to regulate the entry of Tunisians to Libya. Theh also discussed activating the electronic link through the 'Wafed' platform to facilitate the recruitment of Tunisian talent to the Libyan labour market.