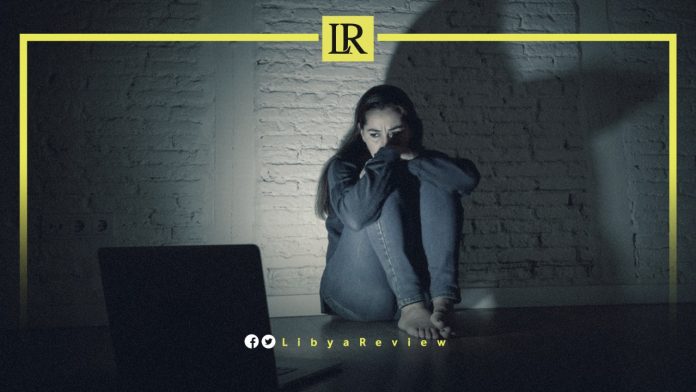 A report prepared by Lawyers for Justice in Libya this year called on the Libyan state to publicly acknowledge the spread of violence against women.
The report included violence on the internet, and a commitment to prevent, investigate, combat and punish gender-based violence against women.
This comes as part of achieving the fifth goal of the Sustainable Development Goals SDG, gender equality and the full implementation of United Nations (UN) Security Council Resolution 1325 on women, safety and security.
In the midst of all this, a group of Libyan experts, including lawyers, judges, activists and human rights defenders, presented a study of the draft law on combating violence against women (2021), to criminalise all forms of violence against women.
These crimes included electronic violence and hate speech online. They called for establishing mechanisms for protection and prevention, establishing a national committee to combat violence against women, and a trust fund dedicated to supporting survivors of violence.
Amina, a Libyan woman, was subjected to a violation of privacy on Messenger via the Facebook platform, where a private chat was published. These include photos from several meetings, where her features were distorted with photoshop, by showing a naked part of her body.
Amina said that, "a URL to an account on Facebook was sent to a group of friends of my account, including my chat and pictures. I could not confront anyone. I cancelled all my accounts and took a long vacation from my work. I lived through very difficult days."
To this moment, Amina does not have any accounts on social media, since her reputation has been tarnished, while the perpetrator is still unknown.
In another incident, Khadija, after agreeing to a friend request from someone she actually knows, she received the well-known Messenger message to everyone, "Thank you for the add," and her response was "you are welcome."
Moments later, she received his pictures, stripped of his clothes, and she blocked the account of this person. Khadija said, "I thought it was over then, until I received a message from an unknown account all threatening and distorting my pictures. I wondered what if my husband knew about these pictures." Khadija kept silent for fear of being labeled.
The Head of the Legal Committee of Victims of Human Rights Organization, Ahmed Al-Zaydani, defined digital violence against women and its forms as "every act harmful to women through the use of electronic and digital means, which is every immoral and impermissible behaviour that harms or insults her directly or indirectly."
Cyber and digital crimes in general have not been enacted in Libyan legislation, which requires the enactment of legislation to deter abusers.
Al-Zaydani added that despite the fact that some argue for the possibility of adapting some provisions of the current penal code to crimes such as insult, defamation, spreading obscene things and other crimes in which technology may be a mean or a tool to commit the crime and is not a place for it. However, the problem remains in the process Evidence for this type of crime.
Al-Zaydani pointed out that the failure to report these cases is due to the absence of a law explicitly criminalising these acts, and thus the loss of the rights of those who have been infringed, which may make them feel that there is no point in disclosing these incidents.
As well as the fear of society's view of them and placing them in the category of sinners, which leads them to prefer silence, not to be informed and not to fulfil their violated rights.
When asked if the new draft includes or refers to this type of violence? Al-Zaydani said that, "the constitution is the supreme law that regulates the basic rules of the form of the state."
Therefore, the constitution can provide for rights in general, but it is not possible for special laws to be included in the constitution because of the detail they need in the texts of the articles. This also applies to the statement of the necessary penalties, just as is the case in penal laws in general or in special laws that are enacted.
Al-Zaydani said that women can be protected from cyber violence by enacting laws on information and digital crimes in general.
He also called for a law on cyber violence against women due to the sensitivity of this issue, its spread and its negative effects on society in general and women in particular.
He also demanded establishing units or departments in the Ministry of the Interior with a high degree of training and support, dealing with this type of crime, to ensure appropriate and timely intervention for the victims.
Al-Zaydani also called for providing special centres for psychological and social rehabilitation for battered women to ensure the reintegration of survivors into society.
He demanded to conduct rights awareness campaigns and explaining how to deal with those who suffer from this type of violence from the moment it occurs, through reporting, and ending with providing the necessary support to the survivors.