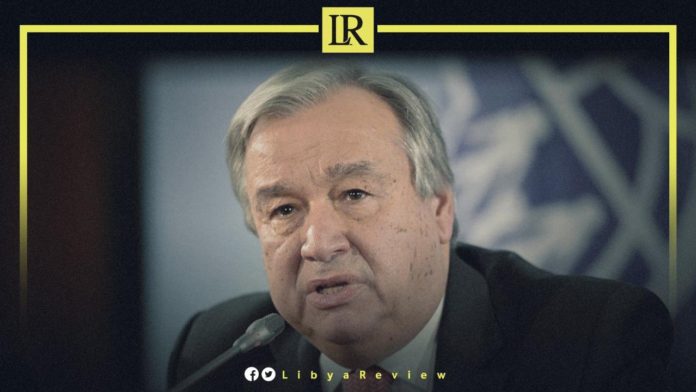 Seventeen members of the Libyan Political Dialogue Forum (LPDF) called on United Nations Secretary-General, Antonio Guterres to "intervene to correct the course of the political process sponsored by the UN mission in Libya (UNSMIL)."
They described the political process as "on the verge of collapse," urging Guterres to ensure "the implementation of the agreed-upon roadmap."
The LPDF members called for accelerating the change of the staff of UNSMIL, explaining that some members of the mission are directly "linked" to the parties to the conflict.
In the letter, they said that there were violations related to the roadmap approved by the LPDF and Security Council Resolution 2570 of 2021. As well as the tasks of the interim Government of National Unity (GNU) and its Prime Minister, Abdel-Hamid Dbaiba as a sponsor, neutral, and guarantor of the electoral process.
The members pointed out "the Presidential Council's failure to perform its duties according to the roadmap, most notably sponsoring the national reconciliation process."
As well as accusing the recently resigned Head of UNSMIL, Jan Kubis of ignoring several calls for the LPDF to be convened.
They doubted the efforts of the political process, its conflict with the roadmap, and relevant Security Council resolutions. They spoke of "ethnic attempts to obstruct and spoil the elections, and for fear of ambitious efforts to kidnap them and destroy their foundations."
On the other hand, the letter welcomed the appointment of Stephanie Williams as an advisor to the Secretary-General of the United Nations for Libya.