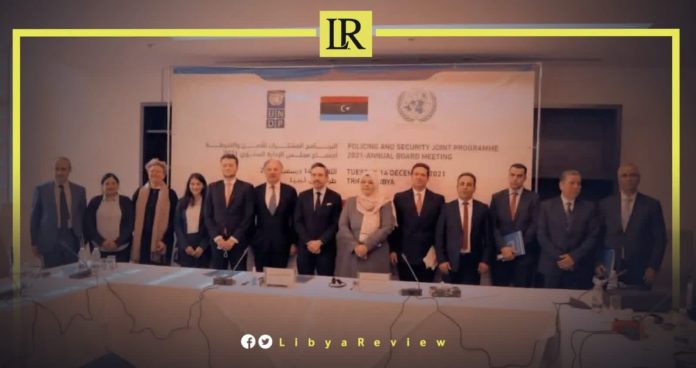 On Wednesday, the Minister of Justice, Halima Ibrahim chaired the joint annual meeting of security and justice at the Al-Andalus Hotel, in Tripoli.
It was attended by the resident representative of the United Nations Development Program (UNDP), the Ambassadors of Italy, Germany, the Netherlands, and France, representatives of the United Nations Support Mission in Libya (UNSMIL), and Heads and members of the Central Committee of the Ministries of Interior and Justice;
The meeting discussed the achievements of the first phase of UNDP's Police and Justice Program, and inaugurated the second phase.
It also tackled ways to strengthen partnerships with participating countries, and emphasized the completion of the administrative and financial modular system of the Ministries of Interior and Justice.
On the sidelines of the meeting, equipment and supplies were received as part of the first phase of the project's outputs.
Ibrahim confirmed that Libya is working to fulfil all its international obligations and commitments related to human rights. This comes as part of the activation and re-formation of the National Committee for International Humanitarian Law.
The minister participated in a meeting related to strengthening the protection of civilians and children during armed conflicts in Geneva, as part of an official delegation headed by the Deputy Head of the Presidential Council, Abdullah Al-Lafi. She revealed the activation of Law No. 11 of 2000 regarding ratification of the International Humanitarian Law treaty.
The minister added that a recommendation is being prepared to the Libyan Parliament to include a strict provision of the Penal Code, relating to the criminalisation of child recruitment in armed conflicts or their involvement in them.
She called for a partnership with the United Nations High Commissioner for Human Rights (UNHCR) during her visit to Switzerland.