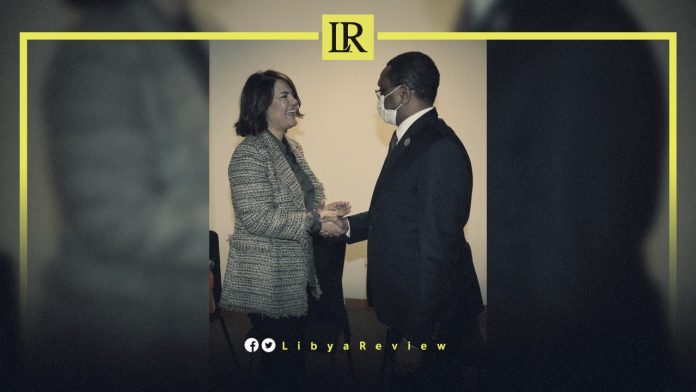 On Friday, the Libyan Minister of Foreign Affairs and International Cooperation, Najla Al-Mangoush, met with her Chadian counterpart, Sherif Mohamed Zein, on the sidelines of the 3rd Turkey-Africa Partnership Summit in Istanbul.
During the meeting they discussed bilateral relations, ways to enhance joint cooperation and border security.
Both sides agreed that the security and stability of Libya is also part of the security and stability of Chad. In this context, Al-Mangoush said that border security is a priority for the Government of National Unity (GNU). She noted that security in general is the gateway to stability and development.
The meeting touched upon the importance of joint action to secure the borders in order to prevent any security violations or breaches, to stop smuggling operations and confront human trafficking gangs.
In this context, there was talk about the possibility of forming a joint force to protect the borders, in coordination between the competent authorities in the two countries, according to a statement by the Libyan Ministry of Foreign Affairs.
Last August, Libya reiterated its aspiration to activate the terms of the quadripartite agreement concluded between Libya, Chad, Niger, and Sudan in May 2018, in order to secure their common borders.
This came during a speech by the Undersecretary of the Foreign Ministry for Political Affairs, Mohammed Khalil Issa, to the African Peace and Security Council (PSC) from its headquarters in the Ethiopian capital, Addis Ababa, via a video conference.
In his speech, Issa added that Libya seeks to combat cross-border crimes in various forms, and establish a consultative as wel as a practical framework to confront common security threats. He explained that this will consolidate peace, security, and development in the common border areas, and will reduce the loss of lives in the Sahara desert.
This meeting comes within the framework of following up on the implementation of the African Union's (AU's) strategy on border governance, especially in aspects related to peace and security, which members agreed to postpone until after 2022.