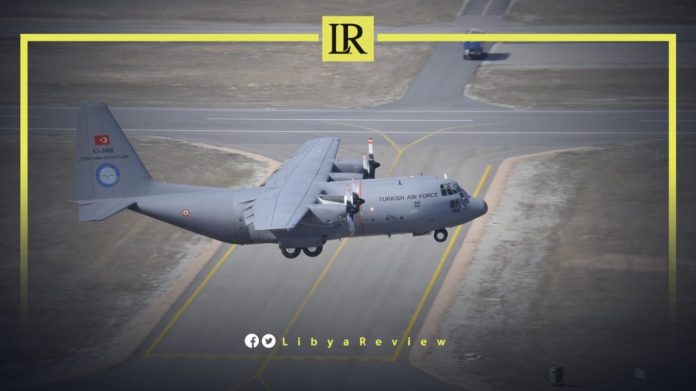 On Wednesday, Italian radar site 'FlightRadar24', which specialises in monitoring military aircraft, reported that a Turkish military cargo aircraft landed in western Libya.
The website stated that the Airbus A400M plane departed Ankara earlier today, and arrived at the Al-Watiya airbase, west of Tripoli, at 12:04 CET.
Turkey is believed to control a number of military bases in western Libya, the largest of which is Al-Watiya. Ankara is also believed to have recruited more than 18,000 Syrian mercenaries, according to the Syrian Observatory for Human Rights (SOHR).
In September, Libyan Foreign Minister Najla Al-Mangoush called on Turkey to work with the Government of National Unity (GNU), and begin withdrawing all foreign forces and mercenaries from Libya.
"We call on Turkey to cooperate with us regarding the implementation of the ceasefire agreement and the outcomes of the Berlin Conference," Al-Mangoush said in a press conference with her Turkish counterpart, Mevlut Cavusoglu in Tripoli.
Libya is two days ahead the scheduled date to hold its Presidential elections, which is seen as crucial to ending its long-running civil war, but deep political divisions threaten to provoke a delay or renew violence. The country's High National Elections Commission (HNEC) has suggested postponing the first round of voting until 24 January, according to a statement.
Notably, the electoral committee formed by the Libyan Parliament, concluded that it is "impossible" to hold the Presidential elections on their scheduled date of 24 December.
The Head of the committee, Al-Hadi Al-Saghir wrote a letter to Parliament Speaker, Ageela Saleh stressing that the committee reached this conclusion "after reviewing the technical, security and judicial reports." He asked Saleh to return to his previous position and preside over the upcoming Parliamentary sessions.
The committee called for the development of a new road map, "in line with the data resulting from the obstruction of the elections." It also stressed the end of the Government of National Unity's (GNU) mandate as a caretaker government.
The vote was intended to mark a fresh start for war-torn Libya, a year after a landmark ceasefire and more than a decade after its 2011 revolt that toppled and killed long-time leader Muammar Gaddafi.
Speculations of a delay have been mounting for weeks, amid bitter disputes over the vote's legal basis, Presidential powers, and the candidacies of several deeply divisive figures.
The elections were intended to go hand-in-hand with Parliamentary polls, as part of a United Nations-led peace process. This was overshadowed by corruption allegations, delays, and the resignation of Special Envoy, Jan Kubis just weeks before the elections.