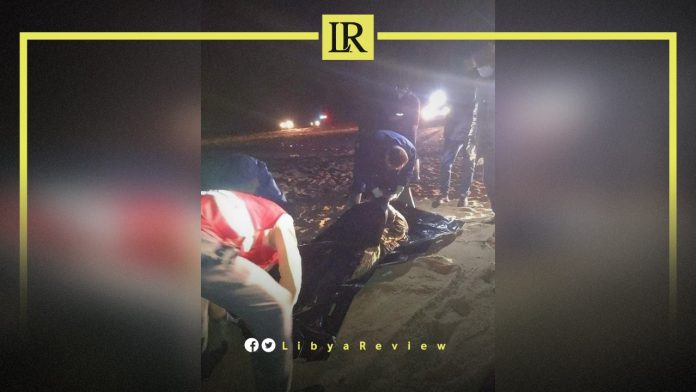 On Saturday, the corpse management team of the Libyan Red Crescent's Al-Khums branch, retrieved 17 bodies, including a baby. They found the drowned bodies on the shores of the Alaluas.
The team also carried out efforts at another beach site in Alaluas area, in cooperation with the coast guard. They retrieved 10 bodies, including two women. Three migrants were rescued, and the search is still underway for others at sea, according to what the three migrants reported. They were rescued by a team of the ambulance of the Libyan Red Crescent, Al-Khums.
On Saturday, a Libyan patrol in the municipality of Bi'r al Ashhab arrested 21 Egyptian migrants. A source from the security department of Bi'r al Ashhab, told the Alwasat news website that security patrols went out of the centres in southern Municipality of Bi'r al Ashhab, with enhancements from the Al-Furain police station. They had received instructions from the security Director Adam Issa.
According to the source, the patrols found a group of migrants inside a hole in the ground after being left behind by smugglers. The patrol arrested them and took them to the Al-Furain police station.
The source added that investigations showed that migrants have not had food for days. They were terrified as they waited for their legal procedures to be completed.
Earlier this month, a gang in Libya is believed to have kidnapped 13 Egyptian workers, and demanded a ransom of more than $8,000 from their families to release them, according to Al-Arabiya.net.
Abdel-Rahman Al-Baz, the brother of one of the kidnapped workers, told Al-Arabiya.net that his brother travelled to Libya in mid-July for work. They had lost contact with him about two weeks ago.
"I know from some Egyptians working there that several workers, including my brother, had been kidnapped by armed gangs, and they are currently residing in a drug den near Tripoli," he said.
"They called us and lowered the ransom in exchange for the release of my very sick brother. They reduced the ransom to $4,000 in order to release him, fearing that he would die," he added.