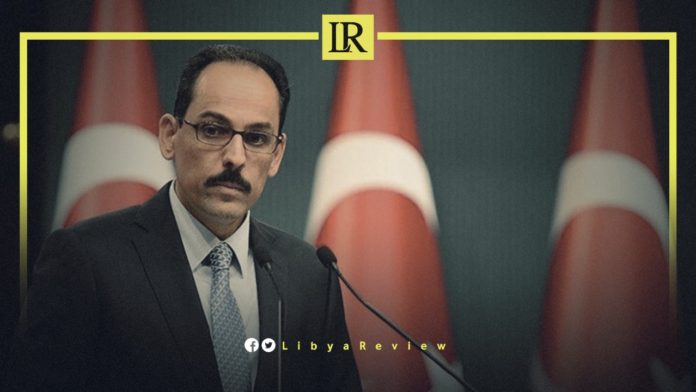 Turkey presidential Spokesman, Ibrahim Kalin, claimed that the maritime and military agreements signed with the outgoing Libyan Government of National Accord (GNA) are still valid.
In an interview with Turkey's Anadolu Agency, Kalin said that his country will continue to support the political process in Libya, including the elections.
"Ankara has provided the necessary proposals to hold the elections on time, but the conditions were not favorable and they the elections have been postponed," the Turkish presidential Spokesman said.
"Turkey will continue to stand by the Libyan people and government, wether in terms of security, support for the political process or rebuilding infrastructure," he added.
Kalin also expressed his hope to announce soon the new political process within a good timetable and a transparent roadmap, without causing any tension or conflict.
In 2019, the GNA and Turkey signed two agreements on military cooperation and maritime boundaries in the Mediterranean Sea. The military agreement aims at ensuring protection of Turkey's interests in Libya, strengthening ties between the two countries and allowing Ankara's direct intervention in the North African country. It also allowed for Turkish troops to be sent to Libya at the request of the Libyan government.
Earlier, Kalin said the continued Turkish military presence in Libya will help support political stability and security in the country. "We are there as a force of stability and to help the Libyan people. And our priority as far as security is concerned is to help the Libyans establish their united Libyan National Army (LNA)," he affirmed.
Last month, the Greek Minister of Foreign Affairs, Nikos Dendias, said that Turkey is the common denominator which threatens the stability in the Eastern Mediterranean region, accusing it of exploiting the migrant crisis as a lever to apply geopolitical pressure.
"Unfortunately the common denominator of many of the challenges that we face in this region…is our neighbor Turkey," Dendias said at a meeting in Athens with the Foreign Ministers of France, Egypt and Cyprus, Jean-Yves Le Drian, Sameh Shoukry and Nikos Christodoulides.
Relations between Greece and Libya also deteriorated in November 2019 to their lowest point in years. Libya's GNA had signed a controversial memorandum of understanding (MoU) with Turkey on the delimitation of maritime zones in the eastern Mediterranean.