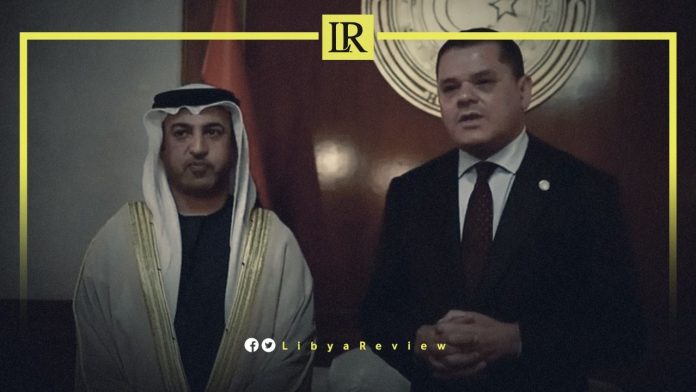 On Monday, Libyan Prime Minister, Abdel-Hamid Dbaiba announced the reopening of the UAE Embassy in Tripoli.
Dbaiba received the new UAE Ambassador to Libya, Mohamed Al-Shamsi and confirmed that Libyan nationals can apply for Emirati visas online.
The two sides agreed to resume the work of the Libyan-Emirati Higher Committee, which is concerned with strengthening bilateral cooperation. The meeting was attended by Libyan Foreign Minister, Najla Al-Mangoush.
The Emirati Embassy in Libya was closed in 2014, as did most foreign diplomatic missions given the insecurity in the country.
Al-Shamsi affirmed his support for the efforts made by the government to achieve stability in Libya. He also reiterated his keenness to enhance cooperation in the interest of the two peoples.
Notably, Libya's Foreign Ministry condemned the deadly Yemeni Houthi attack on areas and civilian facilities in Abu Dhabi, where three people were killed and six others injured.
The ministry said in a statement that such acts are a dangerous escalation that exacerbates the conflict, and prolongs the suffering of the Yemeni people.
The Iranian-aligned Houthi group attacked the United Arab Emirates in what it said was an operation using missiles and drones, which struck several fuel trucks.
"The targeting of vital and civilian facilities is considered a serious violation of international humanitarian law," the Libyan Foreign Ministry added.
It also condemned the hijacking of an Emirati cargo ship carrying medical equipment for the Saudi field hospital, as it sailed opposite the Hodeidah Governorate.
"The hijacking is a flagrant violation of the freedom of maritime navigation and trade transiting the Bab Al-Mandeb Strait and the southern Red Sea, and a flagrant threat to the security and safety of this navigation. It also represents a violation of international laws and norms, and targeting a merchant ship is a war crime," the statement noted.