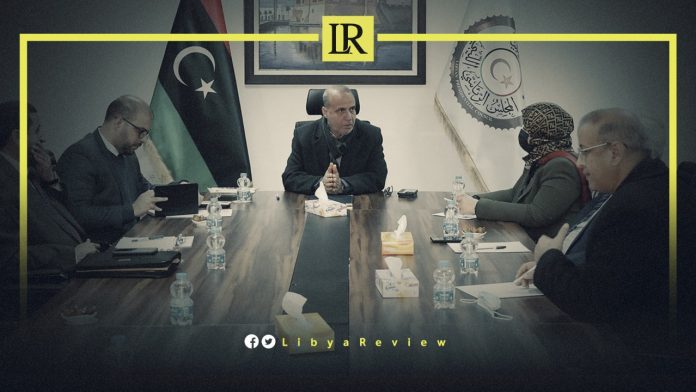 The Deputy Head of Libya's Presidential Council (PC), Abdullah Al-Lafi affirmed that the national reconciliation process was paying special attention to those displaced from across the country. He added that the initiative seeks to find solutions for "their return to their homes, villages, and cities, until security, stability and civil peace returns to all cities of Libya."
This came during his meeting with members of the High Council of State (HCS), in the presence of the Minister of Social Affairs, Wafa Abu Bakr Al-Kilani. They discussed a number of issues related to national reconciliation, according to the media office of the Presidential Council.
They also discussed the situation faced by displaced persons in the eastern region, and ways to overcome their difficulties and obstacles. They also exchanged ways to work on protecting their administrative and financial rights, in coordination with the competent authorities. The issue of prisoners was also discussed during the meeting.
Al-Kilani pledged "to solve all the problems and obstacles facing the displaced."
Last month, the United Nations Office for the Coordination of Humanitarian Affairs in Libya (OCHA), stated that more than 200,000 people remain displaced.
It noted in its humanitarian bulletin for December, that security operations in Tripoli led to mass arrests of migrants and refugees. It added that the UN Rapid Response Mechanism is currently providing relief to families affected by the winter floods.
The office described the situation as fragile, and about 1.3 million people are in need of assistance. "About 500,000 are targeted with the available aid, while there are 610,000 migrants and refugees in Libya," it noted.
It pointed out that the required funding amounted to $189.1 million dollars, while $138 million were provided. It estimated the rate of progress until December was 74%, reaching 446,000 people. As well as pointing out that half of those in need of humanitarian assistance are internally displaced or are migrants that are residing in, or transiting through the country.
On 1 October, the UN High Commissioner for Refugees (UNHCR) announced that it had registered more than 278,000 people by the end of 2020.
UNHCR confirmed in a report that the number of displaced persons decreased slightly from 2019, as a result of the ceasefire. It pointed out that there are no official figures on the number of displaced Libyans, especially in neighbouring countries such as Egypt and Tunisia.
Libya fell into chaos in 2011 after a NATO-backed uprising, which toppled long-time leader Muammar Gaddafi.