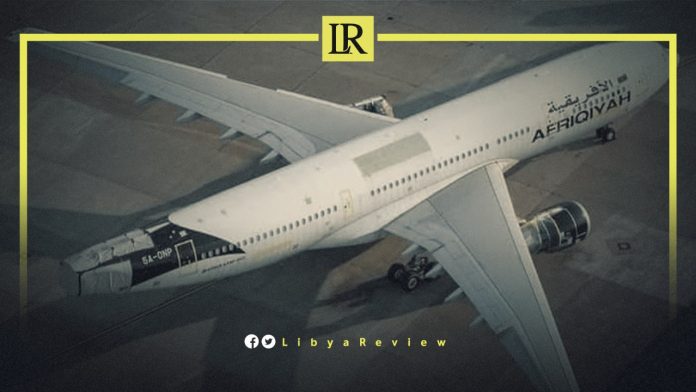 On Sunday, the Libyan African Aviation Holding Company, (LAAHCO) announced that the Cabinet of the Government of National Unity (GNU) agreed to allocate €40 million to repair the Afriqiyah Airways plane, which has been stationed in Hamburg, Germany since 2016.
In a statement, the LAAHCO said that despite the meetings between the governments and boards of directors of the holding company and Afriqiyah Airways, which have followed suit since that date, no action had been taken. Lufthansa Technik announced that it would take legal measures to sell the plane by public auction.
The company added that the holding company's board of directors intervened and submitted a memorandum to the Minister of Transport, who in turn referred it to the Cabinet, where a decision was taken to maintain the aircraft.
The company praised the decision of the GNU, which will contribute to preserving the assets of the Libyan state-owned company.
Notably, Libyan Member of Parliament (MP), Abdul-Moneim Al-Arfi accused Libyan Prime Minister, Abdelamid Al-Dbaiba, of using militias to disrupt the national elections in the country.
"There are armed formations taking place under the order of the Prime Minister of the GNU, who is moving the militias to thwart the elections," the Libyan MP said in press statements.
He claimed that Al-Dbaiba does not intend to hand over power and is laying down a plan to remain at the head of the Libyan government for three more years.
The Libyan lawmaker explained that any candidate for the Prime Minister position will not be committed to dismantling the weapons of armed formations.
"Before Al-Dbaiba received his duties, a specific date for the elections had been set. However, he did not commit to holding the elections at that date. Al-Dbaiba was the first one who violated the electoral laws " Al-Arfi said.
The Libyan MP also called for setting a specific date for holding the next elections, with a new government "that is capable of holding those elections."
"We want a suitable ground for holding elections. We want a real partner in the country," he concluded.