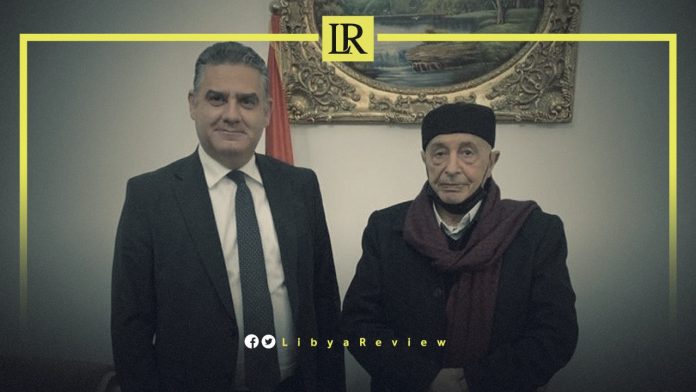 On Monday, the Greek Ambassador to Libya, Ioannis Stamatikos met with Libyan Parliament Speaker, Ageela Saleh in Tobruk.
The Greek Embassy stated that Ambassador Stamatikos "had a fruitful and friendly meeting with Saleh, as the two officials discussed the latest political developments in Libya."
Both officials reiterated their rejection of the "illegal" Turkish-Libyan maritime Memorandum of Understanding, signed in 2019.
The statement concluded that the two sides "exchanged views in order to further strengthen the bilateral relationship between Greece and Libya."
In 2019, the previous Government of National Accord (GNA) and Turkey signed two agreements on military cooperation, and maritime boundaries in the Mediterranean sea.
The military agreement aims at ensuring the protection of Turkey's interests in Libya, strengthening bilateral ties, and allowing Ankara's direct intervention in the country. It also allowed for Turkish troops to be sent to Libya, at the request of the Libyan government.
Notably, Greek Foreign Minister, Nikos Dendias called on Turkey to immediately recognize the nullity of the maritime agreement. He described Turkey's stance on Greece as, "the epitome of irrationality."
Dendias also stressed that Athens is committed to peace and stability in Libya. As well as supporting the principle of non-intervention in domestic issues.
Turkey slammed Dendia's statements, saying the statements "do not serve peace and stability."
"The anti-Turkey statements made by Greek Foreign Minister (Nikos) Dendias almost every day are populist and unrealistic claims that do not serve peace and stability," Turkish Foreign Ministry Spokesman, Tanju Bilgic said in a statement.
"This provocative discourse is neither compatible with good neighbourly relations, nor with the spirit of the consultative talks we have relaunched with Greece," Bilgic added.
Notably, Libya and Greece are working on enhancing bilateral cooperation in various fields.
Libya also appointed a new Ambassador to Greece, after years of no diplomatic representation in Athens.
The newly appointed Libyan Ambassadors, Hamad Bashir Al-Mabrouk presented his credentials to Greek President, Katerina Sakellaropoulou.