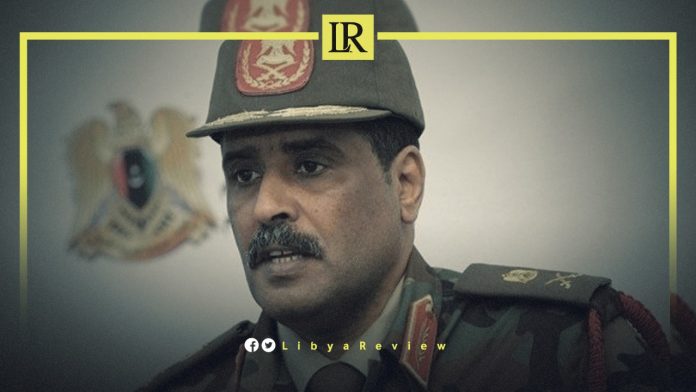 On Thursday, the General Command of the Libyan National Army (LNA) welcomed the Libyan Parliament's decision to appoint, Fathi Bashagha as the country's new Prime Minister.
The LNA's official Spokesman, Major General Ahmed Al-Mismari said that the new government should work with the country's military and security bodies to "impose the prestige of the state, preserve its capabilities, and protect all sovereign institutions from attempts of extortion and domination by outlaws."
He added that the LNA's is closely following, "all the military, political and economic tracks to reach a comprehensive solution to the Libyan crisis, push the country forward, and meet the aspirations of the people to hold Presidential and Parliamentary elections. As well as approve the constitution, and speed up development and construction in an atmosphere of security and stability."
Al-Mismari also voiced support for the efforts of the 5+5 Joint Military Commission (JMC), adding that the new government must, "pave the way for elections, establish security, support the war on terrorism, and all initiatives aimed at unifying state institutions."
Earlier today, Libya's Parliament appointed former Interior Minister, Fathi Bashagha to replace Abdel-Hamid Dbaiba as Prime Minister.
"The Parliament voted unanimously to give confidence to Fathi Bashagha as head of a new government," Parliamentary Spokesman, Abdallah Blaiheg said after the session in Tobruk.
Two candidates out of a total of seven: Bashagha, and Khaled Al-Bibass a former senior official in the same ministry successfully applied for the position.
Before the vote, Speaker of the House, Ageela Saleh announced that Al-Bibass had withdrawn his candidacy, leaving Bashagha the only candidate in the running.
The Parliament also adopted a new amendment to the Constitutional Declaration, which has served as the interim constitution since 2011. This is with the aim of having certain articles amended by an ad hoc committee.
Libya has been mired in a political crisis since the fall of long-time leader Muammar Gaddafi's regime in 2011.