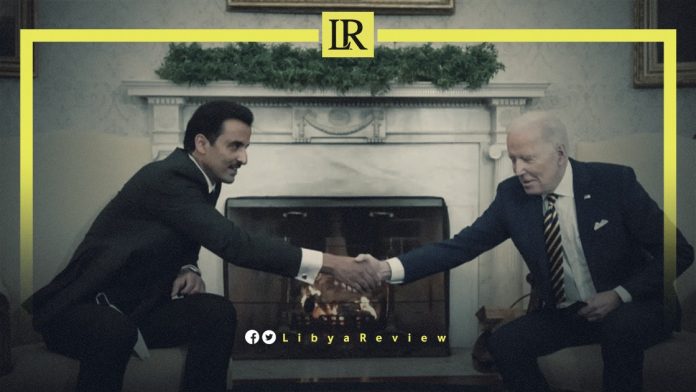 The US and Europe are looking for alternative supplies to Russian gas, as part of their sanctions on Moscow, due to its military operation in Ukraine.
Among the list of potential alternatives to supply gas to Europe is Qatar. The rich Arab country is considered one of the largest exporters of liquefied natural gas in the world. In February, Qatar's Energy Minister confirmed that "no single country" can replace Russian LNG supplies destined for Europe.
In late January, US President, Joe Biden held bilateral talks with the Emir of Qatar, Sheikh Tamim bin Hamad in Washington. Sources told Libya Review that the meeting discussed Doha's ability to supply the west, in the event Moscow invaded Ukraine.
"Qatar informed the United States of the possibility of meeting Europe's gas and oil needs, provided that it manages the petroleum facilities in Libya," the sources added.
"Biden and Prince Tamim discussed possible solutions to resolve this issue, as European fears persist over the loss of Russian gas supplies due to the Ukrainian crisis," the sources explained.
They noted that "the Qataris told the Americans that their influence still exists in Libya, provided they give a green light and pressure the French to agree to a greater Qatari role in managing major Libyan oil facilities."
Libya's National Oil Corporation (NOC) announced that Libya's gas production amounted to 853.1 billion feet in 2018. In September 2021, it warned of a decline in gas production within two years to 700 million feet per day, if a plan to develop the fields was not implemented.
Libya currently produces about 1.2 million barrels of oil per day, and has approximately 48 billion barrels of crude oil reserves, the largest in Africa.
On Saturday, the NOC's Chairman, Mustafa Sanalla said Libya is currently focusing on raising gas production rates to meet the increasing European demand.
However, Libya's Oil and Gas Minister, Mohamed Aoun reiterated that they are unable to replace Russian oil exports at present, explaining that Libya needs 5-7 years to achieve this goal.