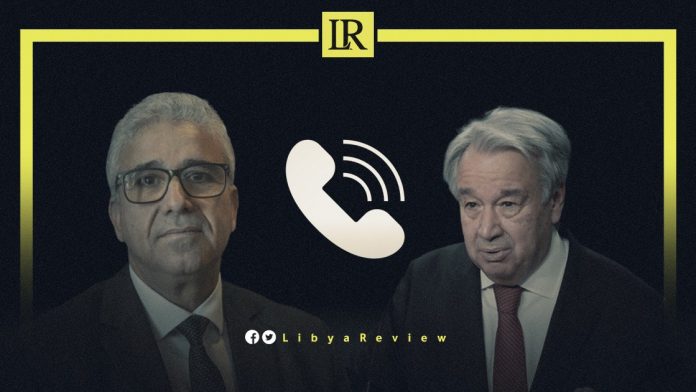 On Thursday, Libya's Prime Minister-designate, Fathi Bashagha held a telephone call with the UN Secretary-General, Antonio Guterres to discuss the latest developments of the crisis.
Guterres expressed "deep concern at the ongoing political polarisation in Libya, which carries significant risks for the hard-won stability," said Spokesman Stephane Dujarric.
"Guterres stressed the need for all actors to preserve calm and stability on the ground, while reiterating the UN's firm rejection for the use of violence, intimidation, and hate speech," said Dujarric.
Guterres added that the current stalemate required urgent dialogue to find a consensual way forward. As well as emphasising his full support for mediation efforts carried out by his special adviser on Libya, Stephanie Williams.
The current crisis erupted after Libya failed to hold its first Presidential elections on 24 December, under a UN-led reconciliation effort. The peace plan, which also involved installing an interim unity government last year. This was aimed at resolving the conflict between the country's main factions that split Libya in 2014, between rival governments in east and west.
The Libyan Parliament named a new Prime Minister, former Interior Minister Fathi Bashagha, to lead a new interim government in February. MP's argued that the incumbent PM, Abdel-Hamid Dbaiba's mandate expired when the elections failed to take place. Dbaiba warned that the appointment of a new interim government could lead to war and chaos in the country. He renewed his pledge to only hand power over to an elected government.
Dujarric stressed that Thursday's call does not mean the Secretary-General is recognising Bashagha's premiership.
"We are not in the business of recognising other countries. What the Secretary-General recognises is that there is a situation in Libya, with competing claims to the authority, with a great risk of things going backward. So he is supporting Stephanie Williams. Our effort is to ensure that Libya does not go back," said Dujarric.
"What we have said is that Williams has offered her good offices, and is trying to bring the parties together, so that the solution is one that is supported by the Libyan people where political decisions on leadership are agreed upon through transparent and accountable processes. But it's not about the Secretary-General choosing favourites, far from it," he said.