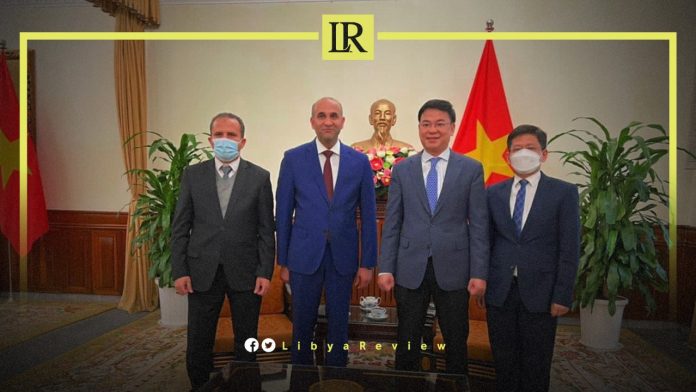 On Saturday, the Director of the Department of Asian and Australian Affairs at the Libyan Ministry of Foreign Affairs, Ahmed Al-Naas, held a meeting with Deputy Vietnam Minister of Foreign Affairs, Pham Quang Hung, at the Ministry's headquarters in Hanoi, according to a statement by the Foreign Ministry's media office.
During the talks, the diplomats discussed the reopening of the Vietnamese Embassy in the Libyan capital, Tripoli, and the necessary arrangements for beginning its work in the near future.
They also stressed the depth of strategic relations between the two countries and the need for Vietnamese companies to return to Libya.
"This important step comes as part of the efforts of the Government of National Unity (GNU) to support mechanisms of cooperation between Vietnam and Libya, and to consolidate and strengthen bilateral relations between the two countries," read a statement from the Ministry.
Libya has been suffering from violence and insecurity since the fall of Moammar Gaddafi in 2011. Years of armed conflicts have led to the closure of most foreign missions and Embassies in the country.
Notably, Libya is currently facing a political crisis after Parliament swore in a new Prime Minister, former Interior Minister, Fathi Bashagha, to lead a new interim government in February. Members of Parliament argued that the incumbent Prime Minister, Abdelhamid Al-Dbaiba's mandate expired when the elections failed to take place.
Al-Dbaiba warned that the appointment of a new interim government could lead to war and chaos in the country. He renewed his pledge to only hand power over to an elected government.
Libya was meant to hold elections last December, as part of a United Nations (UN)-guided peace process aiming to draw a line under a complex conflict that dates back to the 2011 revolt that toppled and killed leader Moammar Gaddafi.
However, as political factions wrangled over their legal basis and the eligibility of controversial candidates, the polls were indefinitely postponed.