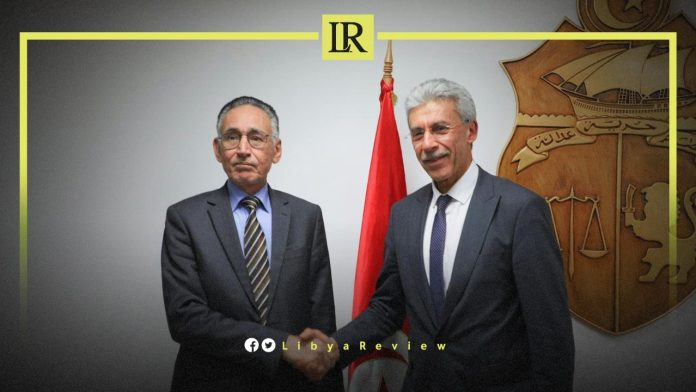 The Libya Minister of Economy and Trade, Mohammed Al-Hwaij, discussed the promotion of joint trade exchange in the pharmaceutical and food products industries, with his Tunisian counterpart, Samir Saied.
This occurred during a meeting between them in Tunisia. The Tunisian Ministry of Economy and Planning said that the meeting touched on the opportunities available to establish a strategic partnership that would create real economic integration between the two countries.
They also discussed the necessity of developing a common vision to advance exchange and joint investment, especially in some life sectors with a strategic dimension, including raw materials, as well as health services.
The two Ministers stressed the importance of the role of public support structures, the private sector, and the financial and banking sector, a sector described by the Ministry as "one of the most significant challenges that emerged during recent global events and crises."
Both sides also highlighted the importance of supporting and assisting the private sector in both countries by providing appropriate conditions and mechanisms through investment, as well as heading towards African markets.
The two officials suggested the formation of a joint working group to delve into the totality of the presented scenarios from their various aspects. They also want to develop a practical action program with the participation of the various concerned parties in formulating it, especially with regard to the private sector.
Last month, Tunisian Foreign Minister, Othman Al-Jerandi, affirmed his continued support for Libya to complete its political path. He also called for the need to stop foreign interference in Libyan affairs.
This occurred on the sidelines of his participation in the 48th session of the Council of Foreign Ministers of the Organization of Islamic Cooperation (OIC), held on the 22nd to the 23rd of March 2022.
Al-Jerandi held a meeting with Mohamed Issa, the Secretary of State for Libya's Foreign Ministry. The meeting dealt with ways to strengthen bilateral relations, and both discussed the ongoing developments in the political situation in Libya.
The Tunisian Foreign Minister confirmed the Tunisian President, Kais Saied's, support for efforts to consolidate stability and security in Libya and the wider region.