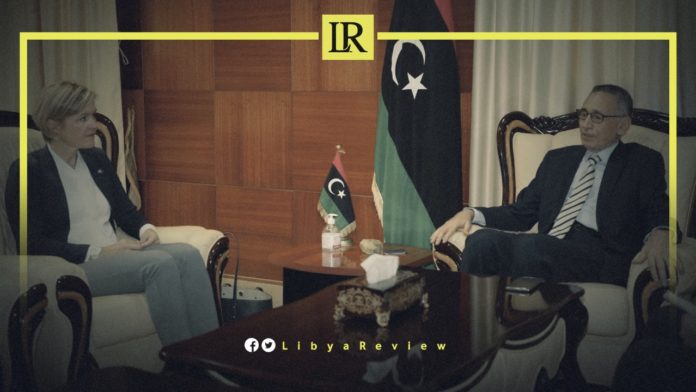 Libyan Minister of Economy and Trade, Mohamed Al-Hweij met with the UK Ambassador to Libya, Caroline Hurndall in Tripoli. They discussed aspects of bilateral economic and commercial cooperation.
Al-Hweij affirmed Libya's keenness to establish a real partnership with the United Kingdom in a number of fields, such as healthcare and transportation.
He noted that the ministry is working on a program of economic reforms aimed at improving Libya's business environment. This is to create investment opportunities for both the local and foreign private sectors.
"The Libyan authorities are working to support the business sector, investments, and the implementation of renewable energy projects to enhance its role in raising the level of GDP for non-oil sectors," he said according to a statement issued by the ministry.
"The government is looking forward to raising the level of cooperation with advisory institutions and specialized experts from the United Kingdom in this field," he added
Al-Hweij called on the UK to organize a joint economic forum under the auspices of the Ministers of Economy and Trade in both countries. "The forum aims to exchange experiences, and discuss promising cooperation opportunities in the fields of investment. As well as implementing and activating free and industrial zones, and organizing joint international exhibitions," the statement noted.
In turn, the British Ambassador expressed her readiness to provide the necessary support to Libya in all sectors. As well as contributing to the implementation of renewable energy projects to wean Libya off of hydrocarbons.
The two sides stressed the importance of continuous communication, and strengthening cooperation regarding the joint forum.