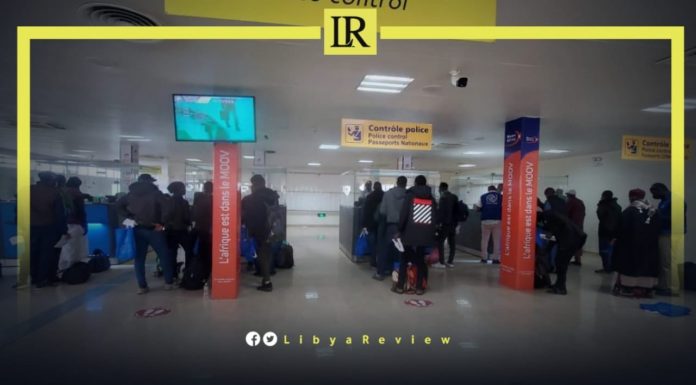 A total of 60,000 migrants have been voluntarily repatriated from Libya to their countries of origin since 2015, the International Organisation for Migration (IOM) said in a statement on Sunday.
"Since 2015, IOM has assisted 60,000 migrants in Libya to return to their country in a safe and dignified manner through the Voluntary Humanitarian Return (VHR) Program," IOM said.
About 47% of returnees assisted through the VHR program had been in detention centres while the remainders were living in urban settings, the statement added.
The VHR program was created to arrange the return of migrants stranded in Libya to their homeland. It is funded by the European Union (EU) under the EU-IOM Joint Initiative for Migrant Protection and Reintegration and through the Italian Ministry of Foreign Affairs' Migration Fund.
Notably, Amnesty International recently urged the EU to reverse its migration policy on Libya. It described the approach as helping return migrants to "hellish" conditions in the North African country.
In a statement, IOM said that more than 82,000 migrants were intercepted and returned to Libya. This has been happening for the past five years, since the EU began its cooperation with Libyan authorities to block migrants from reaching European shores, according to the Agence France-Presse (AFP).
"Many of those who have been returned to Libya — including women and children — are held in government-run detention centers where they suffer from abuse, including torture, rape, and extortion," the group said. Other migrants "forcibly disappeared."
Libya has been suffering insecurity and chaos since the fall of the late leader Moammar Gaddafi in 2011, making the North African country a preferred point of departure for migrants who want to cross the Mediterranean Sea to European shores.
Since the beginning of the year, 36 migrants died and 87 others went missing off the Libyan coast on the central Mediterranean route, the organisation said.
So far this year, more than 3,000 migrants have been rescued at sea and returned to Libya, according to IOM.
In 2021, a total of 32,425 migrants were rescued and returned to Libya, while 662 died and 891 others went missing off the Libyan coast on the central Mediterranean route, IOM said.