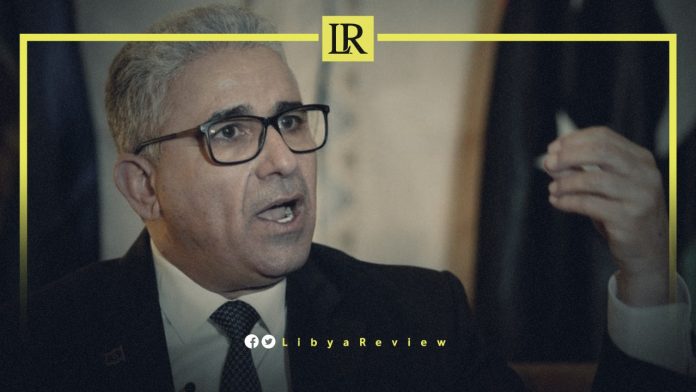 On Saturday, the newly-appointed Prime Minister of the Libyan Government of National Stability (GNS), Fathi Bashagha, denied all reports circulated about being asked by Tunisia to leave the country.
Media reports emerged that the Tunisian government requested Bashagha to leave the Tunisian territories where he has been residing.
In a statement, the Libyan Foreign Ministry described the reports as "fake" and "malicious rumors targeting the bilateral relations between the government and its Tunisian counterpart."
The Ministry added that it is in constant coordination and consultation with the Tunisian government," noting that it values its neighbour's "efforts and the logistical and security facilities it provided to the government during its stay in Tunisia."
Tension has mounted in Libya since the Libyan Parliament gave confidence to a new government headed by Bashagha, a former Interior Minister, while sitting Prime Minister Abdelhamid Al-Dbaiba insists on remaining at his post.
On Thursday, the Bashagha government held its first meeting in the southern city of Sebha to discuss the government program. It said the meeting came ahead of plans to start operating from the capital Tripoli.
"The era of corruption and chaos has passed, and a new era of reform, construction and justice has begun," the Prime Minister said.
Bashagha noted that Libya is not "booty to be seized by a particular person or a particular family, who believes that they can buy the country with the people's money." This is in reference to rival Prime Minister, Abdelhamid Al-Dbaiba.
He pledged that his government will "be for all Libyans, and in all regions." As well as that they would "work to resolve the suffering of citizens."
Bashagha added that the Cabinet meeting will be devoted to discussing the "draft budget, the unified salary scale, the military, and border security." This is in addition to discussing "proposals to support local municipalities, and the closed oil ports."
As Africa Intelligence put it, "diplomatic relations between Bashagha and Tunisia took a turn for the worse," citing that for several months he had been making frequent trips to the Tunisian capital (his recent arrival was on April 17th), however, he was asked not to use Tunisia as a rear base for his political ambitions.