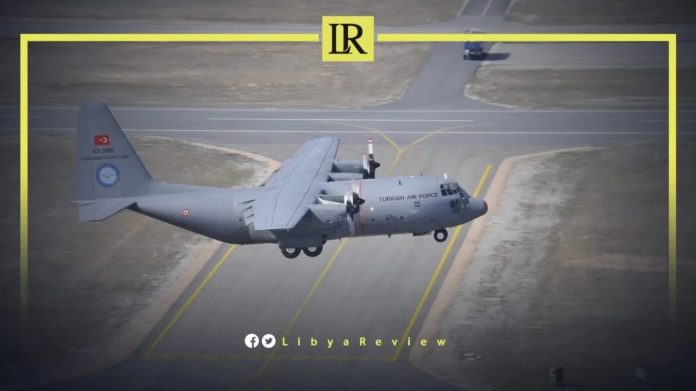 On Saturday, a Turkish military Airbus A400M Atlas landed at Al-Watiya Air Base, coming from Isparta base in Turkey. It is the fifth Turkish flight in the last three days.
About a week ago, the global air traffic website, Flightradar24 tracked a Turkish military Lockheed C-130 Hercules cargo aircraft, arriving at the Al-Watiya airbase from Ankara.
Turkey continues to send military aircrafts to Libya, with more than ten planes landing at the Uqba bin Nafi Airbase in the Watiya region, in western Libya.
The planes are believed to be transporting military supplies. This is occurring despite the fact that the United Nations (UN)-brokered ceasefire agreement stipulates that all military cooperation with foreign nations must be halted.
In May, Turkish Defence Minister, Hulusi Akar, stated that the Turkish soldiers and Syrian mercenaries in Libya would remain present to preserve Ankara's interests.
The UN estimates there are over 20,000 foreign fighters and mercenaries in Libya, helping both sides of the conflict.
In April 2019, the Libyan National Army (LNA) led by Khalifa Haftar launched an offensive on Tripoli. The previous Tripoli-based Government of National Accord (GNA) requested help from Turkey in November 2019, to avert an LNA takeover. Ankara soon began to airlift thousands of Syrian mercenaries, and an array of weapons to support the GNA.
The ceasefire agreement also demands the withdrawal of all mercenaries and foreign fighters from the country. A number of Libyan politicians have called for the closure of airspace to Turkish aviation.
Notably, a Professor of political science at Omar Al-Mukhtar Al-Libi University, Yusef Al-Farsi, said that the Turkish air bridge to western Libya was impeding international efforts to end the Libyan crisis peacefully.
Recently, the Turkish Constitutional Court rejected the applications of six journalists in two separate cases concerning their imprisonment over their news reports on Libya.