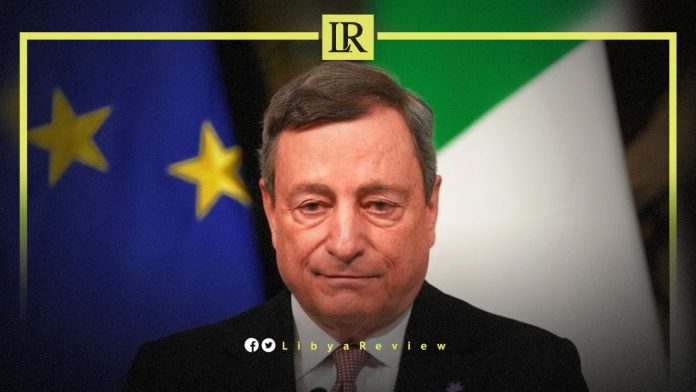 Italian Prime Minister, Mario Draghi said that Libya could be a huge supplier of gas and oil to Italy, and Europe.
This came during Draghi's conversation with US President, Joe Biden at the White House on Tuesday, according to the Italian website "Decode 39".
Addressing the US President, he added: "We must work together to achieve stability in the country."
Days ago, Libyan Oil Minister, Mohamed Aoun denied Europe's request to increase oil supplies to meet the European market's needs. This coincides with the global energy crisis, and amid heightened tensions with Russia.
Aoun said in press remarks to Russia's Sputnik news agency that Libya is unable to increase production for the next five years.
"The existing capabilities do not allow us to increase production," he explained.
He added that Libyan production of crude oil is currently 650,000 barrels per day, while gas production reaches two billion cubic feet per day.
Aoun confirmed that Libyan production remains halted. He noted that "the Zueitina Company, Akakus, and Sarir, some of the Mellitah fields and the fields of the Sirte Company are still closed."
"Production has not resumed yet, but two ships have been filled, to relieve pressure on storage tanks from the Zueitina oil port," he added.
"Libya is unable, at the present time, to become an alternative to Russian oil for the European Union. Perhaps this will be achieved within five or seven years," the minister replied to a question from the Russian RIA Novosti Agency in April.
Aoun had earlier said that Libya does not currently have the ability to export oil to Europe via the "Green Stream" undersea line. He explained that Libya's production is currently allocated to the consumption of power stations in Libya.
"I do not think in the near future, that we will have the ability to increase any quantities of gas for export. I do not think that it will be in the effective quantities that can resolve the shortage crisis in the European Union," he said.
He pointed out that Libya cannot contribute much to the gas sector. "Despite the agreement with Italy to supply it with Libyan gas, the need for energy inside Libya during the past years led to the recent agreement with Italian companies to reduce the quantities of exported gas for internal use."
He added that it is "possible to increase the exported quantities in the coming years gradually, but not directly today."
He pointed out that gas-producing countries will not be able to compensate for Russian gas. This is because they are "linked to long-term contracts that cannot be changed overnight in order to compensate gas for Europe."