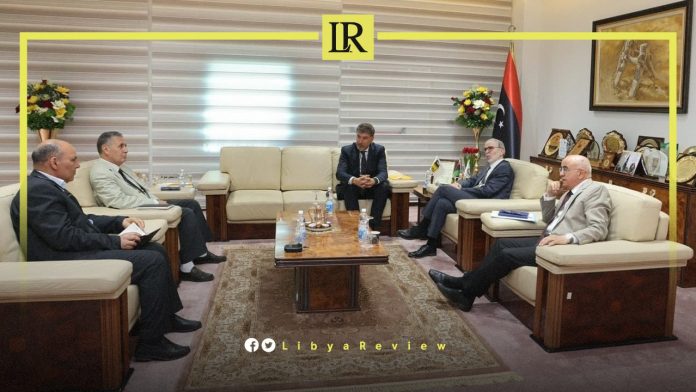 On Wednesday, Chairman of Libya's National Oil Corporation (NOC), Mustafa Sanalla received Italy's ENI's General Director in North Africa, Antonio Baldasari.
The NOC said in a statement that, "Sanalla and Baldasari discussed a number of topics during the meeting, most notably the follow-up of the workflow at the various sites of Mellitah Oil and Gas Company."
They also discussed ways to develop and enhance joint cooperation, to invest in discovered and undeveloped oil and gas fields. They agreed to develop these fields to increase production rates, and support Libya's economy.
Sanalla stressed that the NOC will continue to cooperate with its "strategic partner Eni," and praised the strong historical relations between the two companies.
In turn, Baldasari affirmed that ENI is determined to continue its exploration and development activities, and "open new horizons for investment, capacity building and training in Libya."
Since Sunday, the NOC has stopped all developmental and exploratory drilling for new wells in all Libyan fields and ports. Sanalla said the halt is due to the "delay in liquidating the approved budget for the year 2022." He stressed the need to stop all well maintenance operations, and all major development projects, to avoid arranging any new financial commitments.
Sanalla warned that the failure to liquidate the approved budget led to an increase in the financial obligations of the NOC, and its subsidiaries.
Last week, the US Embassy in Libya announced its full support for the temporary freezing of oil revenues in the Libyan Foreign Bank (LFB), until a revenue management mechanism was created.
"Restoring Libyan oil production is important for the Libyan people, and the global economy. Agreement on a mechanism for transparent management of oil revenues is imperative in order to achieve this, as discussed by Libyan parties in the 1 April meeting of the Berlin Process Economic Working Group," the Embassy said in a statement on Saturday.
It stressed the need for "the mechanism to include agreement on priority expenditures, as well as transparency measures, and steps to ensure oversight and accountability."
The statement noted that the US is "prepared to provide technical assistance, as requested by the Libyan parties to help with such a mechanism."