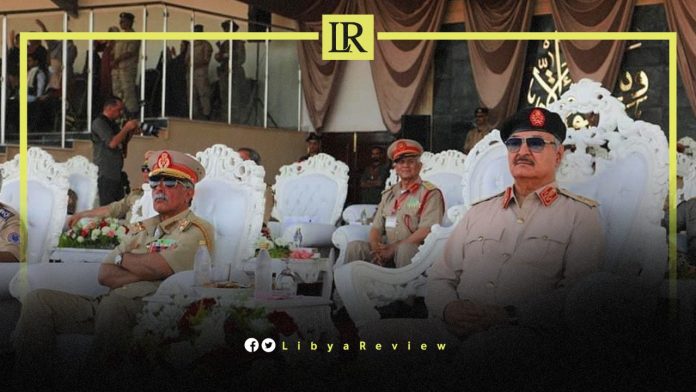 The Commander-in-Chief of the Libyan National Army (LNA), Field Marshal Khalifa Haftar praised the role of Arab countries in supporting the LNA in its war against terrorism.
In his speech during the graduation ceremony of the 54th batch of the Military Academy, Haftar said that "without the LNA and the support of Arab countries, Libya would have turned into a major empire of terrorism that threatened the world."
He stressed that without the popular support, "Libya would not have a place on the world map."
"We believe that we are on the right path despite all the challenges facing us in our long struggle. We are committed to our pledge to continue the process of completing the construction of our national army in an exemplary, modern, and advanced style," he added.
Notably, the Director of the Moral Guidance Department of the LNA, Major General Khaled Al-Mahjoub said that the counter-terrorism operation in the south of the country "has achieved its goals."
In an interview with Sky News Arabia on Tuesday, Al-Mahjoub said that the LNA has intensified its reconnaissance operations, and its pursuit of IS elements. He confirmed that they "dealt a strong blow to IS."
The senior official revealed that they are cooperating with several countries, to combat terrorism in Libya.
On Monday, the LNA announced that they destroyed a number of military vehicles, and arrested an IS terrorist commander in Qatrun.
In a statement, the Southern Commander of the LNA, Major General Al-Mabrouk Sahban stated that forces "carried out a qualitative military operation, during which they targeted a number of IS militants and destroyed armoured vehicles."
"Our desert and land reconnaissance patrols continue over the entire region in pursuit of all militant groups deployed in the southern areas. Libyan Air Force warplanes provided close air support for LNA troops advancing on the ground," he noted.
He added that the operation aimed to "hunt down the Takfiri terrorists that threaten security and stability and who are active in looting, theft, sabotage, and smuggling activities."
Soldiers were deployed across the town, and secured all entrance and exit points, the LNA official added.