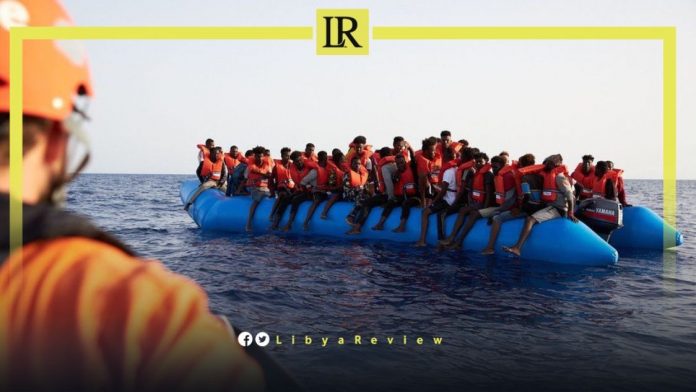 The Libyan Coast Guard rescued 64 migrants aboard a rubber boat, on their way to Europe.
The Coast Guard noted that the migrants were handed over to the competent authorities, in order to complete the procedures for their deportation to countries of origin.
Notably, last week four migrants drowned, and 17 others were rescued, after their boat capsized northwest of Libya.
Libyan Coast Guard and Port Security patrols managed to rescue the migrants, after their boat began to falter off the coast of Mellitah, west of Tripoli.
After the rescue operation was completed, the migrants disembarked at the Mellitah Point, and were handed over to the competent authorities.
It noted that the "Migration Control Agency will follow up, within the framework of its humanitarian role, the process of caring for these migrants and completing the procedures for their safe deportation to their countries of origin."
The Libyan Coast Guard has long been accused of intercepting migrants at sea, and returning them to "inhumane" Libyan prisons. European countries, such as Italy, continue to provide financial and logistical support to them, despite the violations committed against migrants.
In January, the United Nations Secretary-General, Antonio Guterres said in a report that thousands of detainees are held illegally and often in inhumane conditions in facilities controlled by armed groups or secret facilities in Libya.
He added that over 12,000 detainees are held officially in 27 prisons and detention facilities across Libya, according to a report obtained by The Associated Press.
Guterres said in the report that the United Nations Support Mission in Libya (UNSMIL) continues to document cases of arbitrary detention, torture, sexual violence and other violations of international law in facilities operated by the government and other groups.
He noted the thousands of detainees who don´t appear in the official statistics provided by Libyan authorities – over 12,000 – are unable to challenge the legal basis for their continued detention.
"I remain gravely concerned by the continuing violations of the human rights of migrants, refugees and asylum seekers in Libya," Guterres said in the report to the UN Security Council.
Guterres said the widespread arbitrary detention of migrants and refugees continued, including those rescued or intercepted trying to cross the Mediterranean.