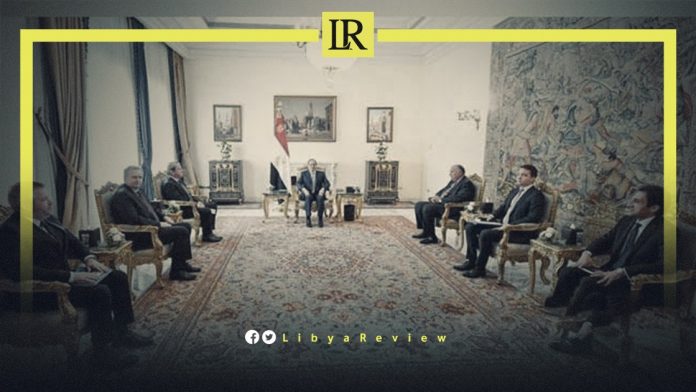 On Wednesday, Egypt President, Abdel-Fattah El-Sisi held a meeting with European Commissioner for Neighbourhoods and Enlargement, Olivér Várhelyi. They discussed bilateral relations, as well as the latest regional and international developments.
During the talks, they discussed the latest developments in Libya, and agreed on the importance of expediting the process of holding Presidential elections.
The Egypt President stressed the need to end the presence of armed militias and extremist groups inside Libya, which undermine stability and peace.
Várhelyi praised Egypt's efforts in combating illegal migration, especially since migration flows from Egypt stopped in 2016.
The meeting also dealt with developments in international issues, especially with regard to the Russian-Ukrainian crisis, and its economic repercussions at the global level.
The meeting was attended by Egypt Foreign Minister, Sameh Shoukry and EU Ambassador to Cairo, Christian Berger.
Recently, The Chargé d'Affairs of the Libyan Embassy in Egypt, Mohamed Abdelali Mesbah, discussed ending the problem of medical insurance for the Libyan students in Egypt, with the Libyan delegation, currently visiting Cairo.
The meeting also discussed solving all the problems of delegated students who were dropped from the financial mandates, and ending the problem of tuition fees related to students.
An agreement was signed for the exchange of study seats between the Ministry of Higher Education and Scientific Research and Al-Azhar University in Egypt. The meeting was attended by Dr. Ahmed Al-Fitouri, the cultural and academic attaché, and Mohamed Hammouda, the legal attaché at the Embassy.
Libya has been in political limbo after it failed to hold elections in December. These were part of the UN-brokered peace process last year, to end a decade of turmoil in the country.
A new political crisis has emerged after the Libyan Parliament swore in former Interior Minister, Fathi Bashagha, to lead a new interim government in February. MP's argued that incumbent Prime Minister, Abdel-Hamid Dbaiba's mandate expired when elections failed to take place as scheduled.
Dbaiba has since refused to cede power, and warned that the appointment of a new government could lead to war and chaos in the country. He renewed his pledge to only hand power over to an elected government.