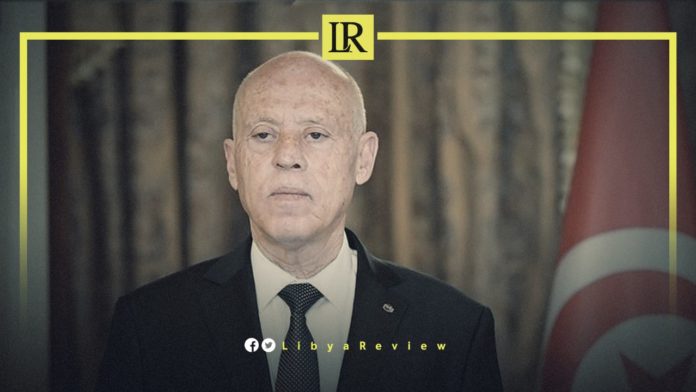 On Friday, Tunisian President, Kais Saied said he rejected any attempt to divide neighbouring Libya. He stressed that Tunisia's position "supports a peaceful Libyan-led solution away from foreign interference."
During his meeting with Libya's Foreign Minister at the Tunisian Presidential Palace, Saied said that Tunisia is committed to the unity of Libya. He stressed that the security and stability of Libya is part of the security and stability of Tunisia.
"I reiterated Tunisia's constant readiness to stand by our brothers in Libya, to support their efforts to reach a political settlement that would enable them to devote themselves to development and reconstruction," Saied said.
The Tunisian President pointed out that Tunisia respects the choices of the Libyan people. "We are confident that the Libyans have all the capabilities that will enable them to succeed in getting out of this critical situation," Saied added.
Al-Mangoush briefed Saied on the latest developments in Libya. As well as the efforts made to establish "a truly inclusive dialogue that would pave the way for upcoming political steps, and protect Libya from the dangers of division and external interference." She praised Tunisia's "firm stance and its active role in pushing for a peaceful settlement."
On Tuesday, Libya's 5+5 Joint Military Commission (JMC) held a meeting in Tunisia to discuss the unification of the military institution, and the withdrawal of mercenaries from the country. The meeting was held under the auspice of the United Nations Mission in Libya (UNSMIL), and France.
The UN advisor to Libya, Stephanie Williams and the French President's Special Envoy, Paul Soler participated in the meeting.
The French Embassy in Libya said Paris "fully supports the work of the JMC for peace and a united, stable, and fully sovereign Libya."
The Director of the Moral Guidance Department of the Libyan National Army (LNA), Major General Khaled Al-Mahjoub said that the JMC is "working to overcome this crisis."
Libya has had two competing governments since March, when the eastern-based Libyan Parliament appointed Fathi Bashagha to replace incumbent PM Abdel-Hamid Dbaiba. This has renewed a standoff between the east and west of the country. Dbaiba, who was elected a year ago in UN-backed talks, has refused to cede power to Bashagha.