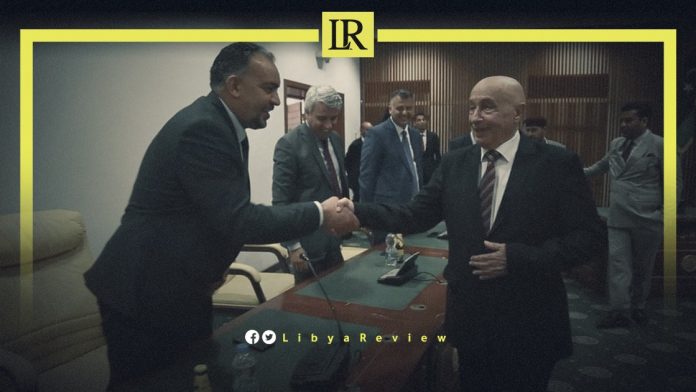 On Tuesday, the Speaker of the Libyan Parliament, Ageela Saleh met with a number of members of the High Council of State (HCS) in Sirte. It was also attended by MP's Zayed Hadiya and Badr Al-Naheb.
The meeting dealt with the latest developments in the country, especially the political and constitutional tracks.
Notably, Member of the Libyan Parliament Talal Al-Mihoub denounced the motion submitted by Turkish President, Recep Tayyip Erdogan to the Turkish Parliament to extend the mandate of troops stationed in Libya for 18 months.
He described Erdogan's move as "an insult to the Libyans." He demanded the international community consider Libya as a "colony of Turkey." "Through this, Erdogan intends to fight the Libyan National Army (LNA)," he claimed.
On Monday, the Turkish Presidency referred a memorandum to the Parliament to extend the mandate of the country's forces in Libya for an additional 18 months.
The memorandum signed by President Erdogan indicated that "the efforts initiated by Libya after the events of February 2011, to build democratic institutions, were in vain due to armed conflicts. These led to the emergence of a fragmented administrative structure in the country."
It recalled the signing of the Skhirat Agreement in 2015 in Morocco, under the auspices of the United Nations. This was after nearly a year of negotiations between parties, in order to establish a ceasefire and preserve the country's territorial integrity. The memorandum explained that the Government of National Accord (GNA), recognized by the United Nations, was formed under the Libyan Political Agreement.
The aim of sending Turkish forces to Libya "is to protect national interests within the framework of international law, and to take all necessary precautions against security risks emanating from illegal armed groups in Libya."