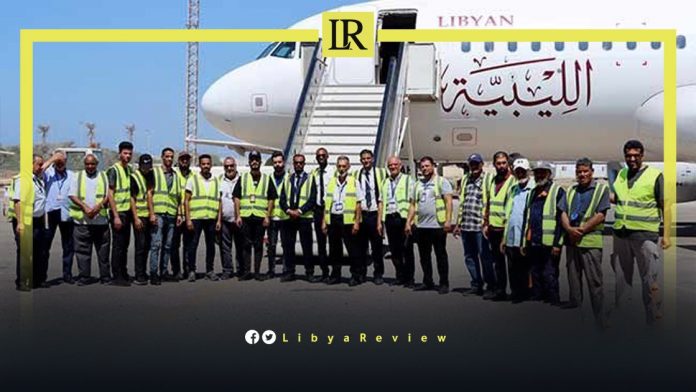 On Sunday, a Libyan Airlines Airbus A320 plane returned to service, after the completion of its scheduled maintenance works, which were carried out in Tunisia for eight months.
In a statement, Libyan Airlines stated that the plane will return to its scheduled service "as soon as the administrative procedures set out by the company, and the Civil Aviation Authority are completed."
A reception ceremony was held for the plane at Tripoli's Mitiga International Airport. It was attended by Transportation Minister Mohamed Salem Al-Shihoubi, the Undersecretary for Air Transport Affairs, the Director of Mitiga Airport, and the Chairman and members of the Board of Directors of Libyan Airlines
Al-Shihoubi said that this was the fifth plane to resume operations after undergoing maintenance, and noted the ministry's intention to return all planes to service.
The Airbus A320 was damaged in 2014 during clashes in Tripoli International Airport. Several planes were being flown across the city to Tripoli international airport – which has been closed since 2014 – to protect them from damage.
Notably, Mitiga Airport announced on Thursday the suspension of all flights to Tunisia, due to a nationwide strike by Tunisia's public sector.
The airport's administration stated that all flights to Tunisia had been suspended on Thursday. This is due to the large-scale public sector strike at most state enterprises, including Tunisian airports last night.
Up to three million Tunisian workers went on strike, shuttering 159 state agencies and public companies, causing cancellations at airports and bringing public transport, the postal service, and utility firms to a halt.
They demanded salary hikes, and concessions on looming reforms, upping pressure on a president already facing a string of crises.
Many Libyans travel to Tunisia for medical treatment and this number has risen exponentially as the oil-rich country slid into chaos after the fall of former leader Muammar Gaddafi in 2011.